Benefits Category
Health & Wellness
Vision Plan Discounts
provided by
Coast To Coast Vision
Coast to Coast vision plan is a national network of eye care professionals. Farm Bureau members will realize a savings of 20%-60% off the normal retail costs and 10-30% on medical eye exams and surgical procedures, including LASIK where available.



Farm Bureau Discount RX Program
provided by
Farm Bureau Discount RX
As a Farm Bureau® member, you and your family have access to a FREE Prescription Drug Card program. Save up to 80% at more than 68,000 national and regional pharmacies.

This program has "LOWEST PRICE" logic to guarantee that you pay the lowest price on your prescriptions (you pay the lower of a discount off the Average Wholesale Price-AWP, a discount calculated off MAC Pricing, or the Pharmacy Promotional/Retail price). This plan is not insurance.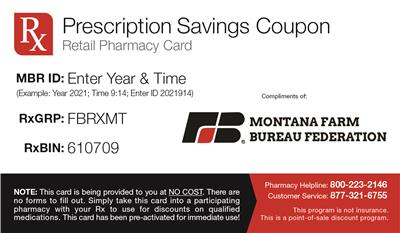 Life Line Screening
provided by
Life Line Screening
Did you know that you may be at risk for life-threatening diseases and yet have no symptoms?  Life Line Screening can evaluate your risk for several of todays most critical – and often undiagnosed – healthcare problems.

In less than an hour, you can be screened with painless, non-invasive, advanced ultrasound technology for stroke and other disease prevention in the convenience and comfort of your own community.

The screenings are performed by a highly qualified and skilled technologist and reviewed by a board-certified physician.  You'll receive a confidential written report within 15 days and are encouraged to share the results with your doctor.

Offered locally at community sites coast-to-coast, Life Line Screening may be coming to your neighborhood.

Easy

In a little more than an hour, you can be screened with painless, non-invasive, ultrasound technology for stroke, aneurysms and heart disease.

Accurate

Our staff of healthcare professionals use the latest technology to provide hospital quality preventive screenings. Our board-certified physicians carefully review your results. Then you and your doctor will have the information you need to work together towards improving your health.

Convenient and Affordable

We're coming to your community to provide you a wide variety of comprehensive screening packages at a discount. Select the health screening package that's right for you.

Your SAVINGS as an Montana Farm Bureau member:

Get 4 SCREENINGS for just $135. Because you are a valued member of the

Montana Farm Bureau, call today to receive a FREE Osteoporosis Risk Assessment.

Tests include:

Stroke/Carotid/Artery Disease
Atrial Fibrillation/Heart Rhythm
Abdominal Aortic Aneurysm
Peripheral Arterial Disease


MDLive
provided by
MDLIVE
Talk to a doctor, anywhere, anytime, straight from your phone!