Wood-N-Woven brings value-added products to Eastern Montana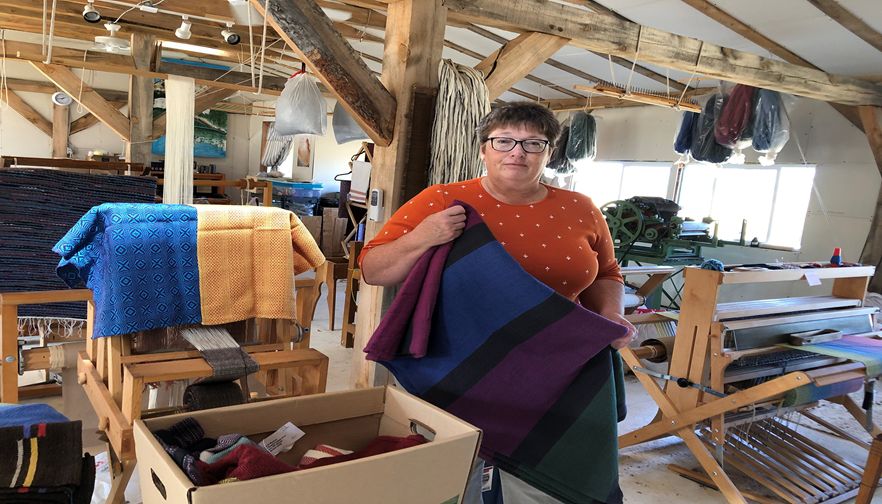 When the Montana Farm Bureau Federation turned 100 in 2019, the 
Montana Farm Bureau Foundation's
Centennial Community Initiative (CCI) set the goal to invest $100,000 in  rural resilience. The CCI grants aim to increase rural prosperity and stimulate economic development by strengthening its roots and bettering small towns across Montana.
"The 
Centennial Community Initiative
was established to help expand economic opportunities, create jobs, support infrastructure improvements, increase support in community service, and provide a long-lasting impact in Montana rural areas," noted Scott Kulbeck, Foundation Coordinator. "We realize that $100,000 is just a start in addressing rural development. Our hope is this program will be used to kick-start projects where seed money is needed to attract larger funding sources. The grant money could help in the completion of a business plan that allows an entrepreneur to secure financing or it may be a grant that is used as matching funds so that a project can attract a larger grant."  
One of the grant applications receiving approval was Wood-N-Woven, an established small business in rural Terry, Montana which has been providing quality hand-crafted wood and woven products since 2002. As the business has grown over the years, the proprietors for Wood-N-Woven saw the need to create a fiber mill in Eastern Montana. To be able to expand the business, Wood-N-Woven had submitted the grant to purchase equipment and build a website. 
Visiting Wood- N-Woven's workshop is like stepping back in the past, at least initially. Laina Therrien and her business partner Cheri Reed Anderson have an array of looms (several made by Therrien's husband) that are beautiful and take up a considerable amount of floor space in the large building. Bags of raw wool hang from the rafters, colorful scarves are draped over a rack and colorful spools of woolen yarn sit on an array of shelves.  
Laina and Cheri had a studio in town, but had received notice in spring 2019 that they needed to vacate the space and had limited time to do so. Laina and her husband decided a wise idea would be adding onto her husband's wood workshop located by their home on the outskirts of Terry. They broke ground May 1, 2019.  
"We had the building completed by November 2019, but didn't get electricity until July 1, 2020," Laina noted "We could only work until dark."  
However, it was this physical expansion of the business that made the women realize that if they could locate funding, they could expand other parts of the business. The grant request included the purchase of a mechanical wool carding machine, a tumbler and website improvements. 
The antique wool carding machine was sourced from a garment mill in South Carolina. "It had been sitting idle for years, so we had some work to do to it to make is functional, but now it's in use," explained Laina. "It's enabled us to take a roving (ball) of wool and turn it into yarn.  Most of the yarn is generally for our own use, but we do sell some of it by the ounce. There are a number of spinners around, and Billings has a weaving guild. Before we had this machine, if we were in the middle of making a rug and needed more yarn, we'd have to wait for the mill. Now that we have the machine, we don' have to wait for a commercial mill to card it." Another piece of equipment the women plan to purchase, or in their case, construct, using some of the grant money is a tumbler.  Why a tumbler? 
"The wool we use is not marketable to the big processors, as it's from a brown or black sheep, which is a color they don't want at the wool markets. We can take that wool we get from shepherds in Prairie and Dawson county, wash it with dish soap, scour it and pick the rest of the junk from it. The tumbler will get rid of any remaining vegetable matter." 
With the remaining CCI grant money, Wood-N-Woven purchased a website address and increased the visibility of the new fiber mill along with all of the products currently being made for purchase. 
"COVID hit us hard because most of our sales are done Handmade Montana Markets, which were all cancelled," noted Cheri. "Having a digital marketing strategy will increase the number of people who are interested in visiting the studio in Terry, Montana, enable customers to see the projects on the looms, and keep the customers coming back to commission projects with us. The fact we have can now sell online will prove very beneficial." 
Their products include beautifully patterned towels, scarves, blankets and rugs, along with many other gorgeous handmade custom-made textiles. 
The women reiterate that the grant has enabled them to fill a niche by taking the product considered "waste," and add value to it by being able to clean and card it easily.  
"The wool growers who are currently unable to sell their wool will be able to commission Wood-N-Woven to clean the wool (rove) to increase the value of the wool for sale. With this process completed, the wool growers have created a new stream of revenue for themselves along with providing Wood-N-Woven with additional income too," Cheri explained.  "Most importantly, this is  money that will stay in eastern Montana and directly benefit our communities."
Want to continue to support rural communities, agriculture education, research and a brighter future for rural Montana? Donate to the Montana Farm Bureau Foundation today.
Powered by Froala Editor
Want more news on this topic? Farm Bureau members may subscribe for a free email news service, featuring the farm and rural topics that interest them most!