The Glamorous Lifestyle of a Ranch Mom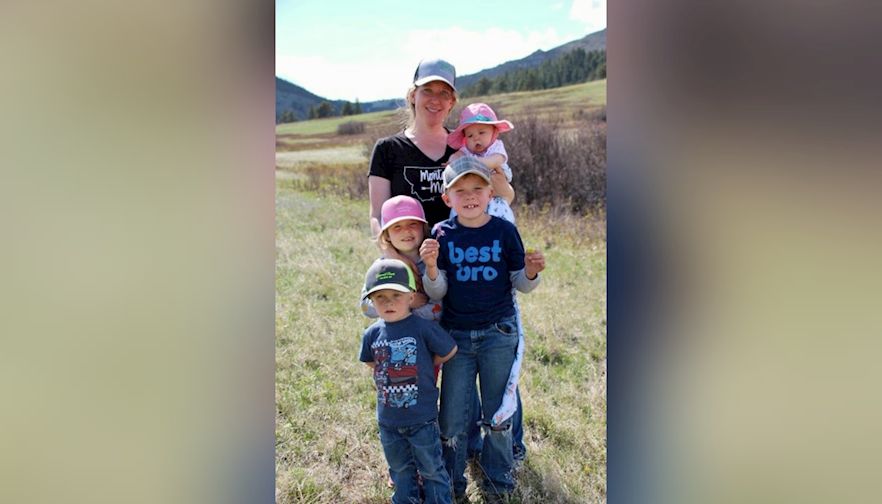 It's 10:28 on a Saturday night and this is the first time since 7:30 this morning that I'm alone. It's not entirely silent, the frogs are ribbeting in the pond behind our house and a cow that must have temporarily misplaced its calf is bellering. For the moment, though, all the little people are tucked away in their beds and Favorite Farmer is trudging up the stairs to do the same. Usually I would grab a cup of tea and read a chapter of my latest must-read book before heading up to bed but tonight I'm sitting at the dining room table, reveling in the (almost) quiet. Then the dog needs to come in. On my way to the door, I catch a glimpse of myself in the mirror and can't help but laugh. Everything about the image looking back at me, including the miniature-sized handprint that's smeared across the bottom, is a picture-perfect reflection of my current lot in life.
I can only see from my waist up, which is probably best. The shoulder of my sweatshirt is smeared with cow poop, my left arm has remnants of the spit-up I thought I had completely wiped off earlier today, and some unknown substance, that I can only assume is most likely snot (and possibly a dried booger) has been wiped along my lower left pocket. My hair is in a knot on the top of my head, the same one I was wearing yesterday, and it looks like someone stuck a wilted Shooting Star into it without my knowing. To top it off, only half of my face has makeup on it ("makeup" used loosely since the entire regimen includes mascara and lip gloss). When I tried to put the other half on while hauling cows to summer pasture this morning, my five-year-old caught me mid-stroke and promptly told me I shouldn't be doing anything distracting while driving and to focus on the road. No wonder the gas station attendant gave me a weird look when I stopped for a caffeine refill.
It's easy to get bogged down with my daily list of to-dos amid Favorite Farmer, our four bambinos and numerous four-legged bovines. Sometimes I forget there was a time when I was Mariah instead of Mom. I could actually eat my food while it was still hot because I didn't have to cut anyone's hot dog up first. When the phone rang there was a distinct possibility it was a friend of mine wanting to plan our upcoming weekend trip instead of asking for tips on potty-training their toddler. My life wasn't always dictated by the four seasons: calving, haying, harvest and feeding. I used to watch the Oscars and had gone to the theater to see most of the movies. Now I hear about the winners on the news the next day and am pretty proud of myself if I've even heard their titles.
I'm not complaining by any means, I absolutely love this crazy, manure-filled life and I'm getting pretty good at organizing the wild tornadoes that make up the ever-swirling storm around me. Nevertheless, it doesn't mean I'm a bad wife or mom for getting a bit nostalgic when I think back to a time when my schedule was the only one I worried about, the house was only messy when I was the one that made it that way and nobody would have a meltdown if I didn't have supper on the table by 6 p.m. It doesn't even mean I'm a bad person for looking forward to the near future when I can once again enjoy a hot meal and not have to plan my anything-but-common getaways in three-hour windows so I can be back in time to feed the baby.
It's just life, one phase after another and I just happen to be smackdab in the middle of one that's smelly, messy, and doesn't allow for a lot of "me" time. Before I know it, I'll be in a new phase, sitting in a clean(er), quiet house, eating a hot meal with Favorite Farmer and having a conversation that doesn't get interrupted 45 times. I have no doubt we'll revel in it but I also have a feeling we'll find ourselves wistfully looking back at the time in our lives when the house was full of scab-kneed kids and there was never a dull moment…and probably looking forward to the day our house is once again bursting at the seams with little people and chaos.
Until we're there though, I'll keep kissing the ouchies away, picking the peppers out of the pizza, and will try not to feel bad for sticking my head in the freezer every once in a while, dreaming of days past or years ahead. I will never, ever judge my mother again for all those times we saw her sneaking off with book in hand, looking for a little "me" time that I have a feeling was never quite long or often enough.
Want more news on this topic? Farm Bureau members may subscribe for a free email news service, featuring the farm and rural topics that interest them most!