Seasons and Cycles: All Part of Life on the Ranch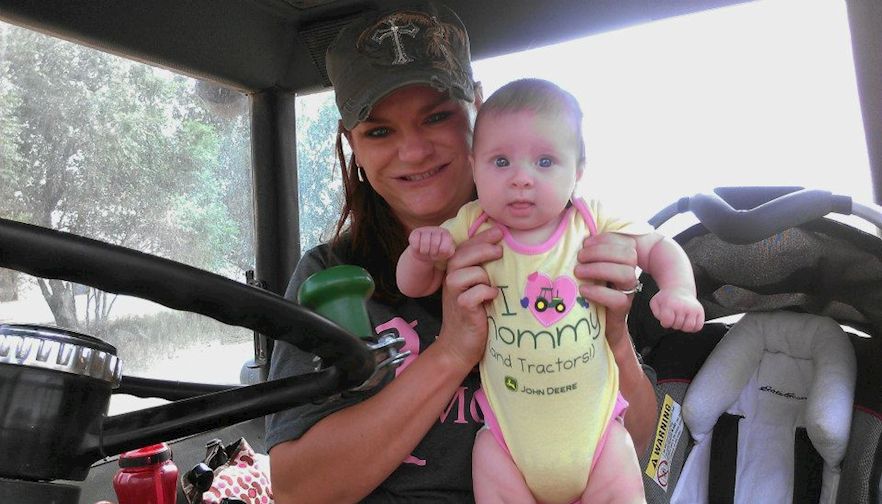 Tamara Choat owns the Homestead Cattle Company with her husband, Travis. It's a custom cattle feedlot and farming business located near Terry, Mont. They grow corn and alfalfa which is used to feed cattle in their feedlot. Since starting the feedlot, they have expanded their ventures and bought a custom meat processing shop in Terry, opening Powder River Meat Company.
Although their children are young (daughter Karity is 5, son Will is 3, and baby girl Kamrie is 2 months) they are a part of the busy ranch. "There is simply no better place to raise kids than on a farm. It is a great life," Tamara says. "Even better is the opportunity to have kids grow up watching their parents work. We don't have to be mindful or strategic in teaching work ethic – we just simply take them with us and they absorb it from the time they're little.
"Working in agriculture, the work is never done, and even a day off is seldom very relaxing," the ranch mom explains. "As Travis says, 'All of our work involves keeping things alive,' whether it's cattle in the feedlot or crops in the field. We never have the option to just close the door and walk out and come back Monday. Although there is not a lot of time off, we still are in complete control of our decisions, which includes the ability to bring our kids along with us to work, or take cookies out to Daddy and the guys while they are working."
Tamara is pleased the children are quickly picking up their love of the rural life. "Karity grew up riding in the feed truck with her daddy, and from the time she could talk has said she is going to be a doctor and a farmer. Daddy jokes that it will take a doctor to support a farming business! Will wants to be a cowboy and is frustrated he can't "wope" (rope) yet. They both spend a lot of time outside, and although I have to keep an eye on the semi-trucks coming through our yard, it is a very safe environment for them to roam and play. As the bigs get old enough to help and the baby gets big enough to pack around, we hope to be Daddy's pen checkers and processing crew as often as we can."
Farming and ranching is all about seasonality, whether it's calving or harvesting. As the holidays near, the Choat family has a few Christmas traditions. "One of our favorite things to do is pack shoeboxes for underprivileged children. We have so much fun selecting gifts and toys we think other kids would like, and then seeing how much we can stuff in each box," Tamara explains. "We also helped start the live nativity program in Terry. This will be the fourth year I have helped organize the community to bring live animals and actors to portray the Christmas story. Our ponies always go to town for this event, and there are lots of little angels and shepherds running around among sheep, milk cows and an occasional goat."
She believes that raising kids on a farm is the opportunity for them to grow up with an inherent knowledge of where food comes from, and to appreciate the hard work of raising cattle and growing crops.
"They grow up respecting and understanding nature, and the obligation to play the cards you're dealt in terms of weather and seasons," she says. "They learn the seasonality of the life cycle – everything we raise has a time to grow and a time to fulfill its purpose, whether it be corn being fed to cattle, or cattle raised as food for people. Our kids have been exposed to death at an early age, and although we still cry about and pray for the barn cat that got killed three years ago, or the pony that died of colic on Christmas morning, they understand the life cycle and its purpose, and the hand of God at work in everything we do. There is a saying: 'Who grows a seed beneath the sod and waits to see believes in God.' This is so true. Farming is like a microcosm of the universe that we live and work in every day."
Originally published in Montana Parent Magazine.
Want more news on this topic? Farm Bureau members may subscribe for a free email news service, featuring the farm and rural topics that interest them most!