Ruby Valley Brewery Adds Energy to Small Town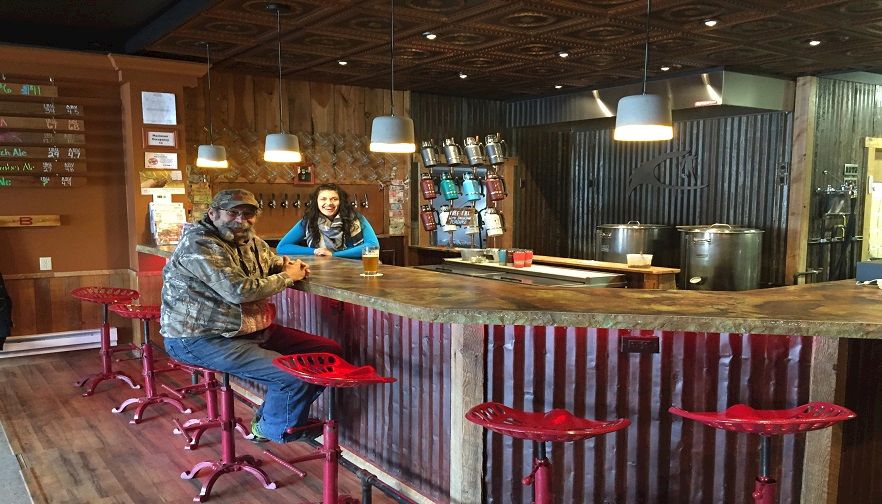 Amanda LaYacona loves Sheridan and loves beer. So when the former Ohioan followed her husband to the Treasure State (it was his dream to live in Montana) the couple landed in southwest Montana.
"At first we thought we'd live in Dillon, but nothing was doing it for us," noted LaYacona. "We thought we'd look further afield. One property was in Sheridan and although we'd never been there we came down Main Street and I noticed a beautiful brick building and said, 'That place looks like a brewery should be in there.'"
To the couple's surprise, once they found their home in Sheridan, the brick building came up for sale and they bought it. "We weren't sure what we were going to do with it. People kept saying Sheridan needed a brewery and we decided to do that. Then the storefront a few doors down became available, and we decided to purchase that, as it made more sense to start small and open our brewery there."
Even before the malted beverage was on tap, the LaYacona's spent hours working on the space to make it clean, inviting and efficient. "That wall on the right is original," she points out. "I spent hours and hours sanding it."
The energetic young woman says their fermentation tanks are small ("we can almost hug our tanks!") so the brewery produces just enough beer to serve customers and fill growlers. "Our intention is to keep the tanks small in this location. I see this as a pilot system and a place where we can play with experimental beers. Our menu is constantly changing. This is a good place to see what people want in a beer and what sells before we start brewing on a much larger scale."
Current beers, in keeping with local lore, include 3-7-77 Kölsch, Mad. Cou. "Heifer" Weizen, Maverick Mary IPA and Road Agent Rye, to name a few.
When they brewery began, LaYacona was not a brew master. "Brewing beer is something I learned along the way. I'm self-taught. I hired Zach Shaw—a skilled brewer from California—as my consultant before he came on full-time. Before he started here, he was a phone call away and helped me step-by-step. The majority of time was spent with me just lumbering through it."
At the point where LaYacona and Shaw felt their beer was ready for the public, they opened their doors to the public--June 2017.
She's extremely pleased that the community has embraced her business. Wednesday trivia nights find the Ruby Valley Brewery packed with eager customers enjoying the beer and camaraderie. "It really has become the social center of the community. The customers who come are now a big family."
LaYacona explains that the small breweries (that are popping up in Montana like good mushrooms after a heavy rain) tend to a provide a social environment. "People look forward to trivia night all week," she says. "I think a small business like a brewery keeps people in the small town and that means the money stays in our town instead of going elsewhere. That's what local businesses are all about."
Wanting Sheridan to be a successful small town is the driving force behind the Ruby Valley Brewery. "I want to see our town thrive. In the big scheme, when you give people a reason to come to your town, it just doesn't help you but helps the neighboring businesses," the entrepreneur says. "Zach explains a brewery becomes a destination for people. In addition, we employ local people. I have several part-timers. Most of my servers work other full-time jobs—they just like to do a shift at our brewery for the social interaction and meeting people. It's fun."
Want more news on this topic? Farm Bureau members may subscribe for a free email news service, featuring the farm and rural topics that interest them most!