Boots on the Hill: Post-Transmittal Break Update and the MFBF Board of Directors Meet with Gov. Gianforte to Discuss Priority Issues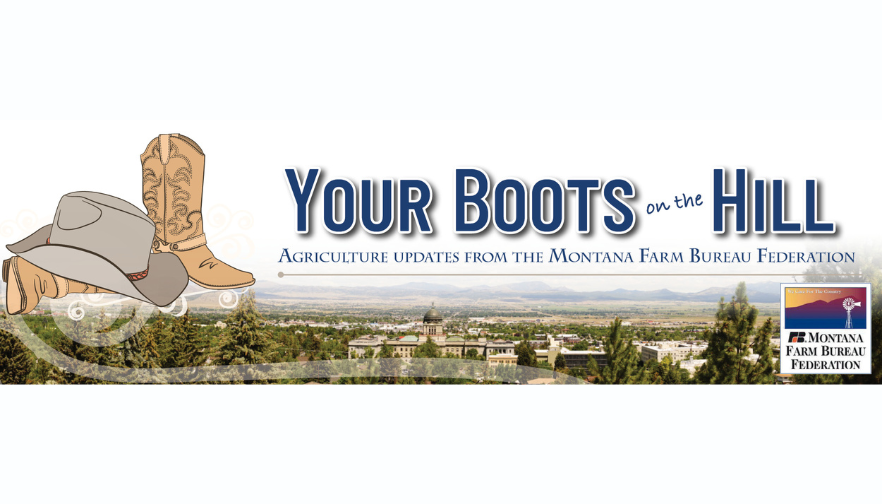 By Rachel Cone and Nicole Rolf, Montana Farm Bureau Federation
We had a busy week here in Helena, kicking off the second half of the Legislative Session with the transmittal break behind us.. In addition to our regular duties, the MFBF Board of Directors held their regular meeting in Helena and met with Governor Gianforte to discuss MFBF's priority issues. Here is an update on where some bills stand after the transmittal break.
Many of the bills we have supported up to this point have been passed through their first chamber and are continuing along through the legislature. All but one of the bills MFBF has opposed were tabled, causing them to miss the transmittal deadline and are now officially dead. Most notably both right to repair bills, SB 347 Revise right to repair laws relating to agriculture sponsored by Willis Curdy (D) SD 49 and HB 475 Generally revise laws related to agricultural equipment repair sponsored by Tom France (D) HD 94 did not meet the transmittal deadline since they were tabled by their respective committees. We advocated against these bills and trust the free market solution between farmers, ranchers and original equipment manufacturers. These solutions are already in the works as AFBF has signed a memorandum of understanding (MOU) with John Deere back in January, additionally since those bills were heard in committee, AFBF has signed a new MOU this month with Case IH and New Holland. Another bill that did not meet the deadline because it was tabled in committee is the country-of-origin placarding bill, HB 350 Generally revise country of origin labeling sponsored by Frank Smith (D) HD 31. We are pleased with this decision and encourage the continued support of voluntary country-of-origin labeling programs such as the Made in Montana Program. We are also pleased to report that SB 408, SB 418, and SB 428, all sponsored by Senator Brad Molnar (R) SD 28 are also presumably dead. This combination of bills attacked Public Access Land Agreements, turned the way state land ag and grazing leases are competitively bid on its head, and endeavored to elect the Fish and Wildlife Commission, all in ways that were harmful to farmers and ranchers.
Important to MFBF and legislation we have reported on often, the following bills will continue through the legislative process and have been heard in their second chamber committee this week, include HB 114 Revise timelines for water right permit and change process sponsored by Sue Vinton (R) HD 56 and SB 85 Require management of delisted grizzly bears at sustainable levels sponsored by Mike Lang (R) SD 17.
We are excited to announce that this week two tax bills were signed into law by Governor Gianforte. HB 212 Increase business equipment tax exemption sponsored by Josh Kassmier (R) HD 27 and SB 121 Reduce top marginal income tax rate and increase EITC sponsored by Beck Beard (R) SD 40 were both signed into law Monday with a group of important tax bills.
The MFBF Board of Directors met in Helena for their quarterly meeting, and during their time in the state capital they visited with Governor Gianforte to discuss MFBF's priority issues and the legislative session. They discussed the importance of water bills HB 114 and SB 72 to agriculture and encouraged the governor to continue the Comprehensive Water Review. Other issues discussed in the meeting included support of the governor's efforts to reduce taxes, the Red Tape Relief initiative, support of grizzly delisting bills SB 85 and SB 295, ballot initiatives and more. The MFBF Board emphasized our opposition to the harmful exempt well bill HB 642. We want to thank Governor Gianforte and the Administration for taking the time to discuss these issues with us and for their continued support of agriculture.
For more legislative updates and details on these issues, follow our Live with Your Lobbyist broadcast each Friday at noon on our Montana Farm Bureau Facebook Page. 
Nicole Rolf is the Senior Director of Governmental Affairs and a rancher from Miles City, Montana. Nicole works closely with our Congressional delegation on national issues affecting Montana agriculture. Additionally, this is her eighth Montana Legislative Session, lobbying in Helena on behalf of MFBF members. She also works as the Southeastern Montana Regional Manager. Nicole can be contacted at nicoler@mfbf.org.
Rachel Cone is the Director of State Governmental Affairs for Montana Farm Bureau Federation. This is Rachel's second session lobbying on behalf of Montana Farm Bureau. Rachel is involved throughout the interim session to track how bills will come to the session. Rachel focuses on water issues throughout the legislative session and lobbies on all topics impacting Montana Farm Bureau members. Rachel can be contacted at rachelc@mfbf.org.
Want more news on this topic? Farm Bureau members may subscribe for a free email news service, featuring the farm and rural topics that interest them most!