Montana Farm Bureau member testifies on Grizzly Bears to Congress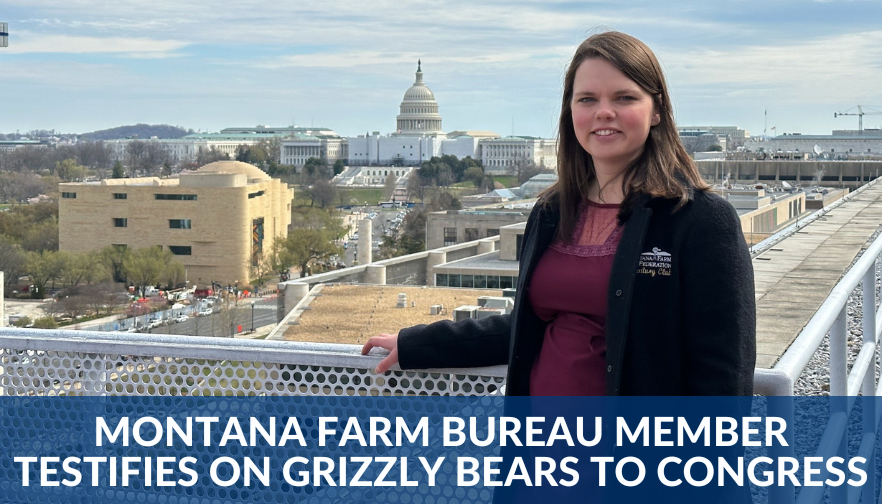 Washington—Front Range County Farm Bureau member and Choteau rancher Karli Johnson testified before the U.S. House Committee on Natural Resources regarding the Grizzly Bear legislation, H.R. 1419. The bill, sponsored by Montana Representative Matt Rosendale (R), directs the Secretary of the Interior to issue a new rule removing the Northern Continental Divide Ecosystem (NCDE) population of Grizzly Bears from the Federal list of endangered and threatened wildlife.
"My husband and I ranch on the eastern edge of the Northern Continental Divide Ecosystem. We raise Angus cattle and kids. We have a 2-year-old girl and 6-year-old boy. We live in the heart of bear country, but also only a half mile west of Choteau Elementary; we live in people country, too," Johnson told the Water, Wildlife and Fisheries Sub-Committee. "The intersection of large apex predator's territory and American families can be a scary place to live. We witness those interactions repeatedly. I have a lifetime's worth of bear stories."
Johnson talked about bears in her yard, in town and near the elementary school. 
"The old adage 'they are more afraid of you than you are of them' is no longer holding true," Johnson said. "The level of comfort that we are experiencing from the bears in our area in and around human dwellings is like I have never seen before. Twice this fall Choteau Elementary students could not walk home from school because at 2:00 in the afternoon grizzly bears were spotted in the city limits blocks from the school. This is becoming more and more dangerous. Although, bears may not be aggressive. They are still predators. Given the circumstances they absolutely can kill."
She noted that ranchers understand that working with Grizzly Bears is part of the job. "Our priority as ranchers is to be good stewards of the land and we have a generational understanding of the importance of putting the ecosystem that we work within first. That does not stop at the grass or crops, it includes wildlife. We understand that there needs to be a species balance that includes Grizzly Bears, but the lack of tools for population management is putting us in a terrible position. The lack of management is selecting for bears that are comfortable around human areas. That puts the safety of our families at risk."
In her written testimony, the owner of Sevens Livestock explained how their ranch has had to change their livestock management strategies including changing to flood irrigation, changing their heifer calving date, not raising sheep, erecting a Grizzly Bear fence at more than $6,000 out-of-pocket and being extremely cautious when spraying noxious weeds and fixing fence.
"We can no longer take evening walks, and we can't go swimming or fishing in the creek without using extreme caution," she said.
Although the Johnsons haven't directly had predation from Grizzlies, they know other ranchers who have lost livestock to bears, including her parents.
"Current management has been set up for a maximum population that has been met. This larger population needs a different management strategy. Delisting the NCDE population of Grizzly Bears will give us the opportunity to implement the strategies needed to have a safe and sustainable population of Grizzly Bears. It would also give us the flexibility to adjust management to ensure that we are serving the bears and their human neighbors well," Johnson said.
As for being a witness on a national level, Johnson noted, "I was honored to be able to share my experiences with the subcommittee and help them understand what it's like to live in Bear Country."
###
You can watch Karli's testimony here.
Want more news on this topic? Farm Bureau members may subscribe for a free email news service, featuring the farm and rural topics that interest them most!