Meaty Monday: Pig Nutrition 101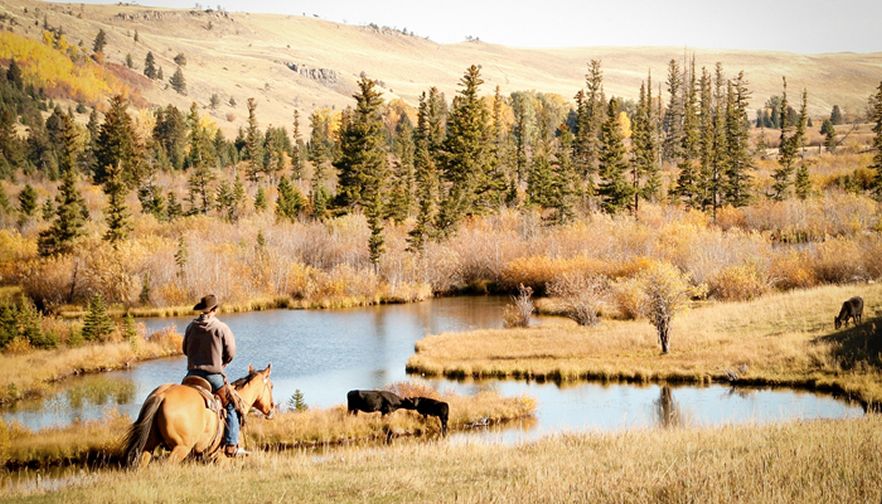 This post was written by Russell Johnson from Sidney MT. Ben Johnson, Russell's grandson, submitted the post for our last Meaty Monday feature. Ben and his wife Karli are Montana Farm Bureau members in Richland County and now run the family feed business started by Russell. Russell has been heavily involved in the hog and feed industry since he graduated from Montana State College in 1958. He operated his own farrow to finish operation with his two sons Craig and Calvin for 30 plus years. When he started he saw the drastic improvements proper nutrition had on his operation. At the time there was a lack of availability for quality feed so he joined Triple F feeds, the leaders of hog nutrition at the time, and quickly rose to the state manager position in the company. The hogs are now all gone from the Johnson operation and most of his former territory, but Russell stayed in the feed industry and started his own feed business focusing on quality cattle supplements and just a little hog feed to local producers.
Ben and Karli with their son Brooks.
A profitable swine enterprise depends upon the proper nutrition of the hog in each phase of production. In fact 60 to 80% of the total cost of producing hogs is feed. Pigs convert feed into edible meat more efficiently than other four legged animals.
Five or more rations are usually required in a complete farrow-to-finish hog operation. The basic ones are bred sow in gestation, nursing sow during lactation, commercially prepared prestarter, fed to pigs weighing 5-20 pounds, starter rations for pigs weighing 20-40 pounds, grower rations for pigs weighing 40-120 pounds, and finishing rations for pigs weighing 120 pounds to market weight. Boars are usually fed the sow ration.
Sows and gilts should be either hand fed or limit fed during pregnancy. Overfeeding sows may result in small litters because of higher embryo mortality, and adds to the feed costs per pig weaned. It also shortens the productive life of sows. Boars should be hand fed if possible, so they do not get to heavy. Real young pigs may develop iron deficiency before they are old enough to eat a creep ration. This can be prevented by giving them an iron shot at 2-5 days of age.
Swine rations, whether bought or mixed on the farm, should contain 60-85% grain for energy. The main grains to be used are corn, barley, oats, and wheat. Corn is the cereal grain of choice but the grains raised locally can be used. A prepared complete mixed or pelleted feed can also be obtained from a local feed dealer. For satisfactory rate of gain and reproduction rates, grains need to be supplemented with protein, vitamins, macro and trace minerals. Balancing supplements can be purchased from a feed supplier in concentrate form, which includes the protein. The most common protein source for hogs is soybean meal, raw soybeans need to be heat processed before they can be fed to pigs because of the Trypsin inhibitor properties of soybeans. If planning on feeding local proteins like: field peas, alfalfa meal, canola meal and linseed meal; more attention needs to be paid to the minerals and amino acid composition of the diet. Most importantly; clean, fresh water is the most important nutrient for all swine. Salt should normally be included in all swine rations at levels from 0.25 to .50% unless your water is high in salts. Lastly, do not ever feed blighted, moldy, or ergot-infested feed to hogs.
As you can tell from Russel's post, nutrition is a critical component to raising a healthy, lean cut of meat for your family to enjoy. Hopefully you and your family have had ample opportunity to enjoy National Pork Month. We've enjoyed drooling over all the delicious pork recipes and trying to decide which ones to share with you! Check out our last recipe below. And until next #Porktober...keep calm and eat bacon.
Ranch Porkchops
2-3 Pork Chops
1 can cream of mushroom soup
1 soup can milk
1 package hidden valley ranch
Salt & pepper for taste
Cook in slow cooker for 4 hours on high or in pressure cooker for 45 minutes
Serve with mashed potatoes and corn, enjoy!
Want more news on this topic? Farm Bureau members may subscribe for a free email news service, featuring the farm and rural topics that interest them most!