Marrying into Ag: Lessons from the Refined City Chic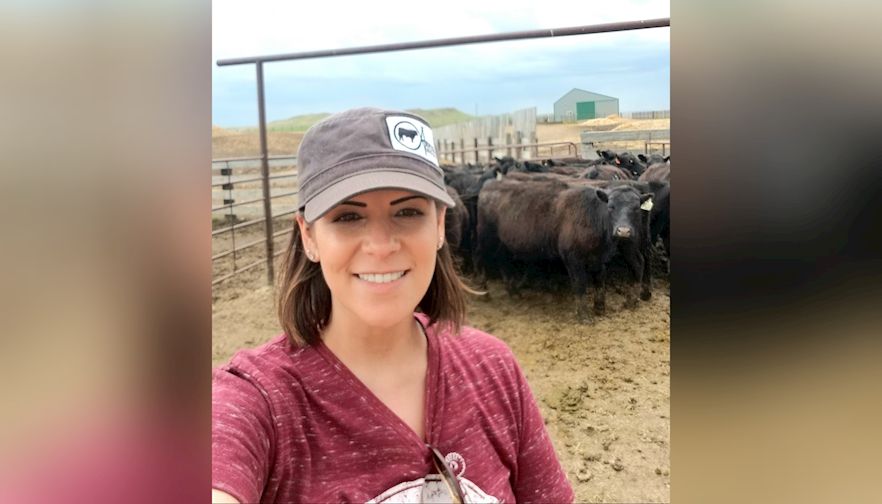 My name is Corry Arntzen. I originally wrote this at the request of the planning committee for the Longest Table event in Lewistown asked that I speak to my experience entering the agriculture arena coming from a non-agriculture background. So, to give you a brief of my history - I was born raised in Lewistown, growing up just outside the city limits. I was heavily involved in the county 4-H program, and through that I launched my livestock career – by raising a couple of French Angora rabbits and then feeding a couple of market lambs in our back yard for several years. So, needless to say – I was no expert on production agriculture upon graduating high school.
I was fortunate enough to have grandparents who lived on a ranch they leased for cattle and hay production; and I had relatives that ranched near Grass Range, MT. So, growing up I was exposed to agriculture, but not necessarily comfortable in it. Even after helping wrestle calves at brandings each spring, I was still very weary of cattle. I was certain if I looked at a cow the wrong way, she was sure to stampede right at me.

After high school I attended the University of Wyoming in Laramie, obtaining a degree in Communications and a minor in Business. I was going to become a successful, educated businesswoman who was certain to be too cool, and much over qualified to come back home to live in Lewistown, MT.
After graduating college, I worked for a data company in Cheyenne, WY and was on the verge of becoming even more cool and educated by moving with the company to the metropolis of Denver. I was nearing my 25th birthday, and suddenly the reality of a big city, and the amenities that were going to elevate my coolness-level were causing me to second guess my big life plan. Maybe it was my quarter-life crisis? I stumbled upon a marketing job at a local business in Lewistown and moved back home the fall of 2008, pretty unsure of what I was getting myself into.

To my surprise, over the next 12 months in town, I realized there was younger, cooler and educated crowd who was also successfully residing in central Montana. I got involved with a couple of non-profit organizations, I bought a house, and then I met my husband Derik. He worked on his family ranch north of Hilger, MT where they raise registered black Angus cattle.
His house was about 25 miles north of Lewistown, between Hilger and Winifred – so I spent many miles and minutes on the road going back and forth visiting before we eventually married, and I moved out to the ranch. That drive to and from town showcases many aspects of agriculture I've come to appreciate since meeting Derik.

First there's the scenery, the prairie with native grasses and a few rolling hills, nestled between the Judith Mountains and the Moccassin Mountains, with the Snowies way off in the south; and as I head north there's an outline of the Missouri River Breaks.
Along the drive there's a mixture of farming – with wheat, barley, alfalfa hay and even canola on some years. And there are the cattle, black, red and even some white, there's sheep, and there are pheasants and deer – probably more of those on the road than I would like. I am certain my commute would look much different should I have made the move to Denver!

As I mentioned, my husband's family raises registered black Angus cattle – primarily for seed stock. Seed stock was one of many terms I wasn't familiar with before Derik…basically means we raise bulls to sell to other cattle producers for them to use to breed their own cattle herd. I've learned that there are a couple pretty significant days in the year that one must not forget – no it's not a birthday or anniversary – it's our annual Bull Sale Day. It is a significant event involving our entire family and extended family – it is the day of the year that the family's work for the past 12 months comes to fruition, our reputation as cattle producers is put to the test; and its really one of just a few pay days for the entire year that our family must rely on.
Our annual bull sale really encompasses many different facets of what production agriculture is – and serves as the epicenter for education when I, or our two young children ask Derik questions of the world of ranching.

First, everything starts off with calving. We calve heifers – or first-time moms - at our place, Derik primarily handles this on his own. We usually start the last week of January; and I've learned there is a big difference between calving animals in late January versus late March or April. The combination of weather, the experience of the heifer, the quality of genetics, and the amount of sleep one has been lucky enough to get (or not get) have a direct impact on the emotional and physical toll the calving season has on a person….and their family. After a long cold and trying winter like the two we've recently experienced in central Montana, I learned there is not only a monetary toll on calves lost; but the emotional toll ranchers experience from calf loss can be just as damaging.
I am continually surprised at the rapid advancement in technology and practices the cattle industry uses. Just as other industries, we look to improve efficiencies across our ranch. As a Christmas gift for Derik, a few years ago I bought him cow cams for our calving barn. The cameras allow us to watch what is happening at the barn area without being physically present. We can watch on our phones or from the grocery store in Lewistown to see if an animal is in labor; I can monitor what is going on to allow Derik to get some valuable sleep in the comfort of his own bed. And more importantly, if something doesn't look right with the cow in labor, I can wake up Derik and HE can go get the cow in and pull a calf at midnight in February.

The cameras have also allowed my kids and I to actually witness the entire birthing process of a calf – something I'd never seen before, even growing up here in Central MT. That is really humbling to watch a cow labor for hours, calve; and then within 10 minutes have herself and her calf cleaned, up and sucking - all when its 20 below zero outside.
The technologies and techniques used in the cattle industry to identify, select and breed cattle to continually improve genetics to produce a product that we, as end consumers demand, is constantly changing. The process of AI-ing, or artificial insemination – was a fairly foreign concept to me, and even more foreign are the EPDs, or expected progeny differences, used when selecting bulls for breeding. I won't go into detail about the specifics in the AI-ing process, but I will tell you that what I've learned from breeding is that we go through a lot of long, long blue plastic gloves at the ranch!

The time between when a calf is born, and you breed a female – is full of decisions all related to feed. What will provide the best nutrition to effectively feed a mother cow and allow her calf to gain efficiently? What pasture has the best grass to take the bull pairs to for the summer months? What is the water quality in the damns? Do we need to put more mineral or salt out? How in the heck do you keep the dang heifers in this pasture and out of that pasture? are questions that seem to be on repeat come springtime. Speaking of fencing, I have learned it is best to keep some basic fencing supplies in every vehicle we own.
As far as pasture management, I've learned that I am banned from any type of weed management ever since I impatiently took the Roundup to spot spray our yard weeds.

I've learned a few things all hay related: that baby powder is not only for use on a child's bum; it is necessary to ensure the rollers work optimally on the baler to make the large round bales you see scattered across the fields. Also necessary in the haying process is the hay probe – or the tool that measures the amount of moisture in a bale once wrapped.
I've learned it costs plenty to replace a probe, so you best not let the kids play with it like it's a light saber from Star Wars. During haying, or harvest, you can never check the weather or glance at the sky too often. The improved cell service and installation of fiber optic cable at our place has hands down improved our ability to utilize smart phones – maybe it doesn't always make us smarter, but I guarantee that each of the guys within a seven mile radius of our operation will have a different weather app on their cell phone so they can each compare the forecasts every morning, and many times in the afternoon and evening as well.

It is fun to find humor in the small "things" I've learned– but the major underlying theme I've learned in the short decade I've been fortunate enough to call agriculture part of my life is that agriculture is a lifestyle.
It is not a job, there is no such thing as 8 to 5. This may be the biggest lesson I am still learning. I can leave a pile of work on my desk Friday afternoon and forget about it until Monday morning. That is not the case in agriculture. The tasks, the work and responsibilities of a rancher, don't stop. As soon as one job is completed there is another that needed done yesterday. It is nonstop and continual – but I've never once heard my husband or his family complain about that. "It's just what we do," they tell me.

I've learned that ranching, farming and agriculture are just as romantic as the books, articles, and the pictures the media can portray it to be. Beautiful sunsets while you deliver dinner to the harvest crew, listening to cows bellar' in the pasture, watching the young calves jump and frolic in the spring sunshine. But with as much romanticism as it holds, it also holds just as much worry and heartbreak to reset your reality, teaching you to never take things for granted.
The incredible power of Mother Nature and the complete lack of control we have over her causes constant worry. We need rain for the crops, we need dry weather to seed, we're flooding, we need a breeze to help the hay dry, we can't spray because it's too windy, it's so cold the calves are going to lose their ears, if we can just catch a few tenths of that rain, and dodge that hail storm – and cry when you weren't able to dodge the devastation of quarter size hail the week before harvest starts. Mother Nature is a constant battle and can often times be a double edged sword.
What I've also learned is at the center of everything is the sense of family and community. Central Montana is a very generous and giving community – I experienced that growing up, even outside of agriculture. And moving into a community between Hilger and Winifred the story is no different. In ag-based communities everyone can relate, battling the same worries and celebrating the same victories. We are a family operation, although we don't all live in the same yard, nor do our kids all go to the same school, we are very much intertwined and incredibly lucky to be able to continue to raise cousins like siblings and provide our children the opportunity to experience the hard work, the ups, the downs and for them to learn this lifestyle of agriculture.
Want more news on this topic? Farm Bureau members may subscribe for a free email news service, featuring the farm and rural topics that interest them most!