Keeping Spirits Local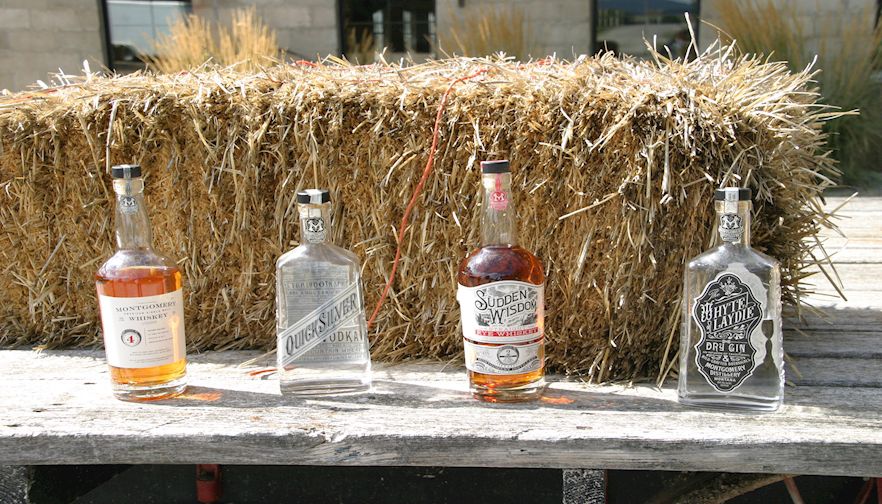 Chris and Tom Montgomery chuckle about being co-owners of a distillery. "That's the last thing we thought we'd want to do," the retired couple say in unison.
The Montgomery Distillery in Missoula boasts a unique feature; all of the grain used in spirits comes from grain grown in Montana and even more specifically, grain grown in Lewistown by the Montgomery family. A stop at the Montgomery Farm finds a modest facility, along with a beautifully restored barn and a couple of modern grain storage bins. Tom and Chris Montgomery now farm the ground where Chris was raised on her parents' dairy.
"Our son, Ryan, was working overseas and wanted to find a way to move back to Montana," explains Tom. "He was always thinking about different projects he could do to make it possible to live here. One day he said, 'I think I will start a distillery' since there were very few in Montana."

Ryan worked another job until he could get the distillery started. After purchasing the farm in 2014, Chris and Tom began tilling fields and planting rye and wheat. Tom was District Director of the USDA Farm Service Agency for 31 years, and Chris taught fourth grade in Lewistown for many years. Both note that they had to have outside jobs to afford running their farm and a distillery wasn't on the list of retirement projects. However, when it appeared life was taking a turn to own a distillery, the two jumped in and started farming their 121 acres for crops suitable for distillation.
"Now we're the silent partners in the distillery, although sometimes we're not too silent," says Chris.
Rye is used to make rye whiskey and wheat is used for our vodka, gin and aquavit, a distilled beverage with added dill and caraway. The distillery purchases its malted barley from Great Falls and uses it to make a single malt whiskey.

Tom buys the winter wheat seed from Moccasin and rye seed from Shelby, noting that most of the rye seed is from Canada because few farmers in the U.S. grow rye for seed. One other different farming practice is striving to produce low-protein winter wheat which differs from most wheat growers who want higher protein wheat for the milling industry.
"I don't fertilize the wheat crop in the fall, which contributes to it being low-protein wheat," says Tom. "We usually harvest our rye and winter wheat at the end of August but because of our cool wet weather last spring, it will be later this year. Unfortunately, we're going to have a 45 to 50 percent loss this year to the rye because of hail damage. Three years ago, the crop got a fungus, and we lost our entire crop. That's farming."

The farm has two huge grain bins, one for rye and one for wheat that provide a way for the grain to be stored as well as put in large bulk totes and shipped to the distillery.
In addition to being co-owners of the successful distillery in downtown Missoula, the couple restored the dairy barn on the property as a venue to host wedding, reunions, and other events.

"We were tearing out the old milk parlor and horse barn, and looked at this barn. It didn't look very good, but I didn't want to take it down," Chris said. Tom gave her a price limit to fix it, which actually was surpassed, but the couple is pleased with the results.
"We've had great luck with the weddings. When you have a small farm like we do, it's important to have fresh ideas to bring in additional income," Tom said.

The Montgomery's have been Fergus County Farm Bureau members for more than 30 years. Chris' mother worked in the Farm Bureau office in Lewistown. "We are very supportive of Farm Bureau and its policies, especially those regarding property rights."
The Distillery
Although Missoula's not a small town by Montana standards with more than 72,000 residents, the downtown has a historic, small-town feel. Chris and Tom helped Ryan and his wife, Jenny, to refurbish an old building on West Front Street with its former lives as a John Deere dealership, a clothing store, flower shop and, yes, a bar.
The distillery offers a nod to its agricultural roots. There are milk cans—harkening back in the time when the family owned the dairy—filled with wheat. There is even family history regarding spirits: Chris' great uncle owned a saloon in a local ghost town in Fergus County. A photo of the saloon showed miners gathered around a bar, so then Ryan had a master woodworker create an identical bar for the tasting room.

"I feel opening this distillery gave downtown and Front Street a real shot in the arm because there wasn't as much here at the time in 2010. This has helped bring more walk-in traffic to the downtown area. That area has progressively become renovated, and at night it's really hopping," said Tom.
The charming building has a tasting room along with the distillery. Liquor must be sold through the state liquor store system which then sells it to the customers and bars.
"Nothing comes out of our distillery that we haven't made at the distillery," Toms explains. "We started distilling grain to produce our Quicksilver Vodka and Whyte Laydie Gin because they don't have to be aged so you can get a cash flow going. Whiskey, like our Montgomery Single Malt or Sudden Wisdom Rye needs to be aged a few years.
Knowledge about producing spirits requires education, so Ryan and Jenny spent time in Scotland studying with skilled whiskey makers. The distilling equipment, a combination pot-column artisan still was made by Christian CARL, Germany's oldest distillery fabricator and shipped from Germany— complete with Germans to install it. The still can be used to make whiskey and with the addition of a 21-plate column, world-class vodka and gin.

A popular beverage for the holidays is their Kirschwasser. Tom and Ryan buy 6000 pounds of Flathead Cherries and make this delicious, festive cherry brandy. "It's not a big money maker, but it's fun and uses one of the treasures of Montana," says Tom.
In addition, the Montgomery's use a commercial kitchen in Ronan to create specialty products including Devil's Broom Hot Sauce and Sunday Morning Bloody Mary Mix sold in stores and the tasting room.

The distillery not only offers creative cocktails, but contributes to the community. They have 20-part-time employees in the tasting room and have hired two full-time distillers. In addition to being the center of the community where friends gather, book readings are held and there is often music. The Distillery also offers their spirits for a limited number of fundraising and special events each season. Their giving mission emphasizes children's health and well-being, fighting hunger in our community, and environmental stewardship.
Ryan received plenty of international publicity for the distillery by building a restored motorcycle he called Sudden Wisdom that runs on vodka heads - part of the vodka discarded in the distilling process. It hit 113 mph racing at Wendover, Utah's Bonneville Salt Flats Motorcycle Speed Trials in August of 2018 and held the world record for a little while.
"It's exciting to see how far we've come since opening the distillery in 2012," says Chris. "Although it's been a lot of work and plenty of challenges, our greatest pride is the kids' work and creativity that's gone into starting this business and also that the grains used in the spirits come from the soil right here in Lewistown turning them into truly great products.
Want more news on this topic? Farm Bureau members may subscribe for a free email news service, featuring the farm and rural topics that interest them most!