Career, creative management helps young producer keep ranch sustainable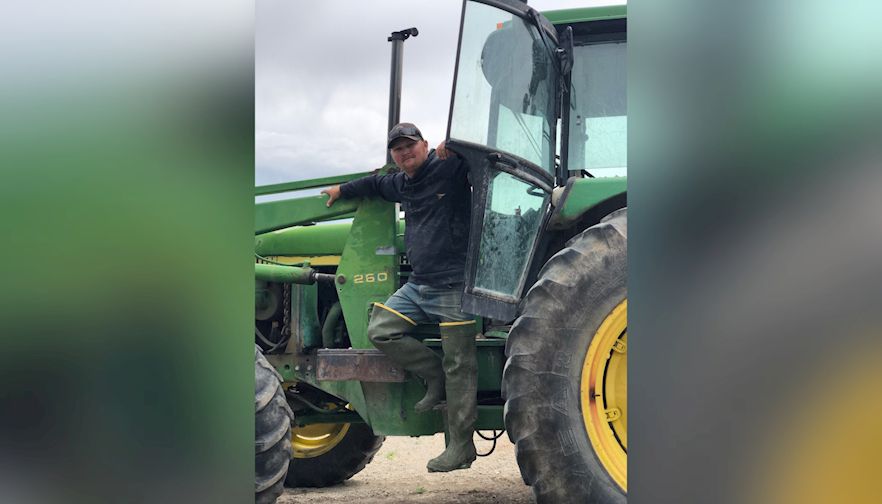 JM Peck was raised on his family's Trapper Creek Ranch in Melrose, Montana. He competed in 4-H showing sheep and steers. Following high school, JM attended Montana State University.
"I really just wanted to ranch, but due to generational issues, there wasn't an opportunity at that time to stay," JM explained. "I attended Montana State University and received a degree in mechanical engineering in 2010. The economy was in a tough place and jobs were scarce. I accepted a job as an engineer at the Conoco Phillips oil refinery in Billings and studied to earn my Professional Engineering License. My girlfriend, Amanda, (now my wife) and I bought a house, got married and got our first dog. It was a good lifestyle."
An opportunity for a job in Butte came up and Peck jumped at the chance to be closer to home. "At that time, my grandmother, who was 92-years-old and in assisted living suggested we live in her house on the ranch. I was excited because when I got off work in the evening and on weekends, I could be helping dad. Amanda was a teacher."

Then JM was offered his former Conoco Phillips job back in Billings and an opportunity to return to the ranch. "While we were working things out with my extended family, I accepted the Billings job. For many months I drove from Billings to Melrose every weekend. However, this was a good opportunity to save money as well as becoming more experienced with managing the family ranch."
JM's grandfather, father and JM had a passion for ranching, but not the rest of family. "My grandpa came back from World War II and ended up in Montana because he loved cattle. My dad came back to the ranch when he had the opportunity and now was my chance."

Other family members who enjoyed hunting and fishing at the ranch were not interested in agriculture. JM and his father, put together a deal, including the money JM had saved, and bought the other family members' shares of the ranch.
"That was a long process," said JM. "I quickly realized because I had saved money from my career and our house in Billings was a good investment, I was in a position to make the family ranch my career."

Peck, who primarily runs Black Angus, sees himself not so much as a cattle rancher but a grass farmer. "Our cows are our method to harvest grass. We calve in the spring, feed them for several months—our grass comes in late because of our high elevation. Then we run them on a BLM lease and move them a month later onto grass on a Forest Service lease, managing that allotment all summer. When we're not chasing cattle, we have 1000 acres of alfalfa and native grass to irrigate."
In October, the Pecks wean, sell and ship their cattle and get ready for the next cycle—calving.

Although 4-H gave JM a good background learning about business and he had worked for his father; managing the entire ranch himself for the past two years has been challenging. "It's a struggle to start with depressed cattle prices which are even lower now than when I first started," JM said. "I need to make tough decisions daily and find ways to work smarter. You strive to get the cows bred back, but then you go through a tough winter with snow, illness and a higher mortality rate. It's a challenge every year to sell enough cattle to make enough to run cows next year. We have a tractor that I love that is a 1987 model. My dad bought it when I was born. It cost $25,000 new. Today, that same tractor is $225,000. On a percentage basis, cattle prices haven't gone up that much."
The thoughtful young rancher says he doesn't have the solution but tries different things such as not doing as much haying but keeping cattle on grass longer. Future ideas may be moving part of their herd to fall calving or running more yearlings.

A friend invited JM to a county Farm Bureau meeting and he was hooked. "I became very motivated when I attended an advocacy training with American Farm Bureau in Washington, D.C.," he said. "It was a pivotal moment for me to become more involved. I got appointed to the Montana Farm Bureau YF&R Committee. Joining YF&R is a great way to network with other young producers, whether you're talking about generational planning or sharing information on cows."
He believes the greatest challenge is the producer/consumer divide. "There are some things we don't have control over like the weather and trade, but by being in a great grassroots organization like Farm Bureau, we can drive the conversation with consumers and have an impact. We need to share with the work and passion we have for farming and ranching in educating consumers and that we're doing the right thing and protecting the environment. We're running our ranches sustainably. It's essential that young farmers and ranchers advocate and be involved."
Want more news on this topic? Farm Bureau members may subscribe for a free email news service, featuring the farm and rural topics that interest them most!