Bill Proposes Per Capita Payment as Eligibility Requirement for Predator Reimbursement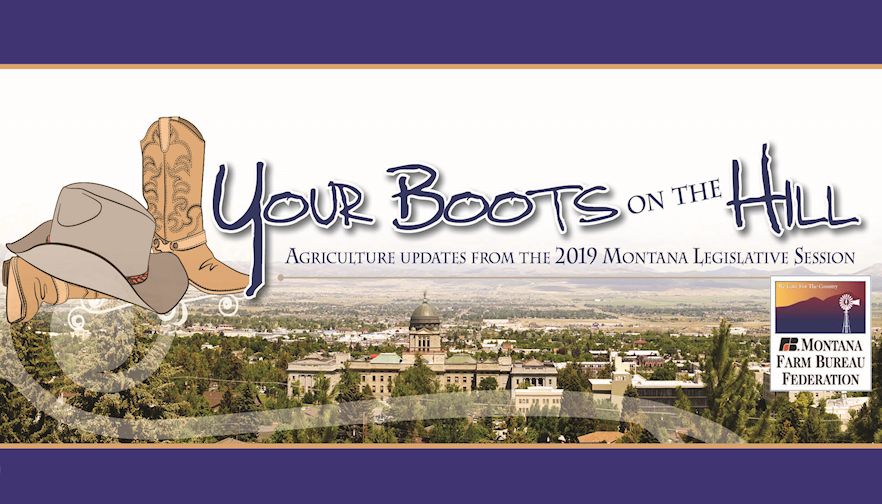 With over 3,000 bill draft requests and only a few hundred bills actually introduced the Legislative Session is off to a remarkably slow start. While we don't expect the lull to last, it has made the first few weeks of the session surprisingly bearable! Since committee hearings have been few and far between in recent history, we've had time to work on pieces of legislation that aren't yet introduced. It's often helpful to reach out to legislators before they even have a committee hearing scheduled. Sometimes we're able to prevent bad bills from ever being introduced if we're able to work with the bill sponsor beforehand. Similarly, it's also much easier to make changes to bills before they're introduced.
We're eager for the pace to pick up in Helena—and if next week's bill schedule is any indication it looks like we'll be busier by the day, but the lull has provided a great opportunity to spend time working with legislators and fine tuning some of the legislation that's come across our radar.
SB 133, Revise eligibility requirements for livestock loss mitigation payments
Sponsored by Sen. Bruce Gillespie (R) SD 9, Ethridge
SB 133 would require a livestock owner has paid the previous years' per capita fee to the Department of Livestock before they are eligible to receive any payments from the Livestock Loss Board. Per capita fees are per-head fees assessed on all livestock. "Livestock" includes bees, poultry, sheep, swine, beef cattle, dairy cattle, horses and mules, domestic bison, domestic ungulates and ratites.
Livestock owners are responsible for self-reporting and fees are collected annually through the Department of Revenue. Per capita dollars are a critical piece of the Department of Livestock's overall budget. Fees support programs that monitor animal health, manage predators, monitor and restrict livestock imports and more. The Department also uses this funding source to administer programs that prevent the spread of animal diseases to humans.
The Livestock Loss Board (LLB) was established by the 2007 legislature to help compensate livestock owners dealing with wolf predation. Since then, grizzly bear and mountain lion have been added to the list of predators the LLB may provide reimbursement for. Livestock owners submit grant applications to the LLB asking for reimbursement for livestock killed by qualified predators. LLB must confirm that an applicant does in fact own livestock and the best way to do so is to confirm that they have paid their per capita fees. Montana Farm Bureau supports putting this requirement into law.
HB 50, Provide civil penalty for violations of agricultural commodity laws
Sponsored by Rep. Joel Krautter (R) HD-35, Sidney
The Montana Agricultural Warehouse, Commodity Dealer and Grain Standards Act requires people or businesses who buy or store commodities to be licensed and provide surety to help protect farmers for non-payment of agricultural commodities. If a commodity dealer or warehouse operates without a license, the contracts they enter with area farmers are at risk of not being honored.
Under current statute, noncompliance or violation of agricultural commodity law is a felony charge. While intentional criminal conduct should be punishable, The Department of Agriculture, only has the power to revoke the dealer or warehouse's license. The revocation of their license invalidates the contracts they've made, often in the middle of a growing season. This is the only mechanism the Department has to force accountability and most violations don't ever see a courtroom.
This bill would allow the Department to seek civil penalties for violations of agricultural commodity laws. Montana Farm Bureau member policy supports this concept as it provides accountability that the system currently lacks. It's one thing to have a rule or law, and another to enforce it. We feel this provision protects our farmers and their contracts by giving the Department the ability to enforce them.
HB 76, Expand alternate dispute resolution services of the Department of Agriculture
Sponsored by Kimberly Dudik (D) HD-94, Missoula
This bill gives the Department of Agriculture the authority in current law to provide mediation services to producers, creditors, and other persons involved or affected by an agriculture related dispute. The Department was provided with a grant in 2016 that allowed them to perform alternate dispute resolution services for USDA-related decisions, but under the newest Farm Bill their grant was expanded to provide mediation services on a far broader category of disputes.
Montana Farm Bureau member policy supports this bill. The Department already has six staff members cross-trained as mediators. HB 76 provides the agricultural community a rapid time frame for fair solutions and prevents the need for costly litigation. This is simply another service the Department of Agriculture can provide our members, without costing the Department additional resources.
HB 151, Increase maximum annual assessment on wheat and barley
Sponsored by Ross Fitzgerald (R) HD-17, Fairfield
This bill would increase the maximum annual assessment levied on every bushel of wheat and hundredweight of barley grown across the state; also commonly referred to as the wheat and barley check-off. The Montana Wheat and Barley Committee retains the ability to set the assessment wherever they feel appropriate to fund research and crop advancement while remaining under the capped amount set by the Montana State Legislature.
The producer-funded and directed checkoff program is supported exclusively by the self-assessment farmers pay on the sale of their wheat and barley. The MWBC is currently up against the maximum assessment cap, with the last increase occurring 13 years ago. The assessment typically represents about 0.5% of the value of the crop, but at the current cap, the assessment is only at about 0.33% of the crop value. As a comparison, the pulse assessment is set at 1% of crop value.
Growers have the option to request a refund of the assessed funds, and only 1% currently do. This speaks to farmers' faith in the check-off and the need to fund foreign and domestic marketing development and research programs. Farm Bureau supported raising the cap so that MWBC can set the assessment where appropriate.
Want more news on this topic? Farm Bureau members may subscribe for a free email news service, featuring the farm and rural topics that interest them most!