Ag Safety Week focuses on safety spaces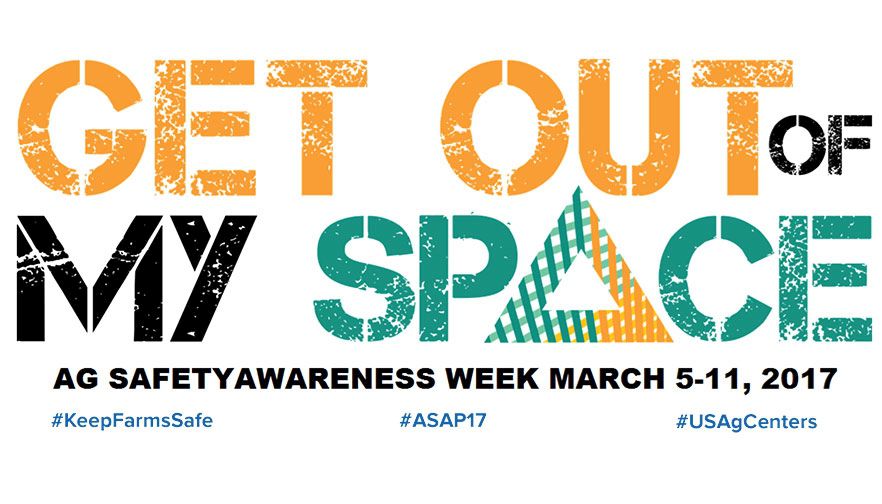 The Agricultural Safety Awareness Program (ASAP) Week will be celebrated March 5-11, 2017 and is urging respect for the safety spaces around hazardous farm equipment and tasks. Mary Hill is not only on the Montana Farm Bureau Health and Safety Committee, but serves her community as a rural EMT. She offers the following advice regarding the safety theme of "space."
Animal Space
"Know your animals," says Hill. "Make sure you have equipment to safely handle the animal and protect yourself. If you give the animal space and a little time, they will go where you want them to go. It's important to know the animal's flight zone and learn the signals they give if you are invading their space. It's calving time in Montana, so be especially aware of a cow with her calf."
Hill said not only is space important when working around animals, it's important to protect the animal's space by using proper bio-security methods. "Don't go from one farm to another with manure and mud on your boots. Wash your hands. Give the farm or ranch owner, and their animals, the respect they deserve."
Equipment Space
"It's important to always be aware of space around equipment," cautions Hill. "Don't step over a PTO, and make sure all the guards are in place. Know the limitations of yourself and the equipment. When working around tractors, combines and other large equipment, make sure you are always some place where the operator can see you. It's especially important to use caution at events when you have a bunch of kids running around. Know where everyone is. You can't be too careful. We see so many accidents on farms and ranches that can be so sad just because someone didn't check the space before they moved a vehicle or equipment."
In addition, the Raynesford EMT has seen plenty of bad ATV accidents. "Know the angles an ATV can handle, and know its limitations. Don't put kids on them, as they don't understand the risks. Most importantly, as I always say, if you want to get there fast, slow down."
Driving Space
Whether you are driving the tractor or in a car behind the tractor, it's important both drivers are courteous and aware on blind corners, blind hillsides and turning lanes. "If you're the one driving the equipment, try to have someone behind you as a pilot car. Even if it's not required, it only takes a carload of kids speeding home from school to run into you to have a serious accident. If you have a couple of cars behind you, if you can pull over safely, do so," Hill said, adding that having flashers and turn signals is critical for road safety. "Use your mirrors all the time and be aware of what drivers around you are doing."
Hill explains the responsibility for highway safety isn't just on the farmers with equipment, but on the motorists, as well. "If you want to pass, try to get the operator's attention. Look to see if there is a field he might suddenly turn into. Don't pass on blind corners. Certainly, don't do any distracted driving," she says. "Remember, slow down if you want to get there fast!"
Confined Space
There is an abundance of grain elevators of all sizes, and using care when working around them is paramount. "There are a many safety issues with grain elevators. Fumes from spray used on grain can get trapped in there and become lethal. Often there might be a crust on the grain on top, but nothing underneath," she says. "In addition, although we don't have many of these in Montana, larger dairies will have manure pits and again, trapped gas in those can be lethal. Use caution when working in a confined space with anything that may have fumes."
Hill advises that staying alert and aware is the key to staying safe. "Oftentimes, safety is just good common sense," she concludes.
Be sure to watch Montana Farm Bureau's Facebook page for safety tips the week of March 5-11, 2017.
Want more news on this topic? Farm Bureau members may subscribe for a free email news service, featuring the farm and rural topics that interest them most!