ACE program graduates prepared to share ag values with consumers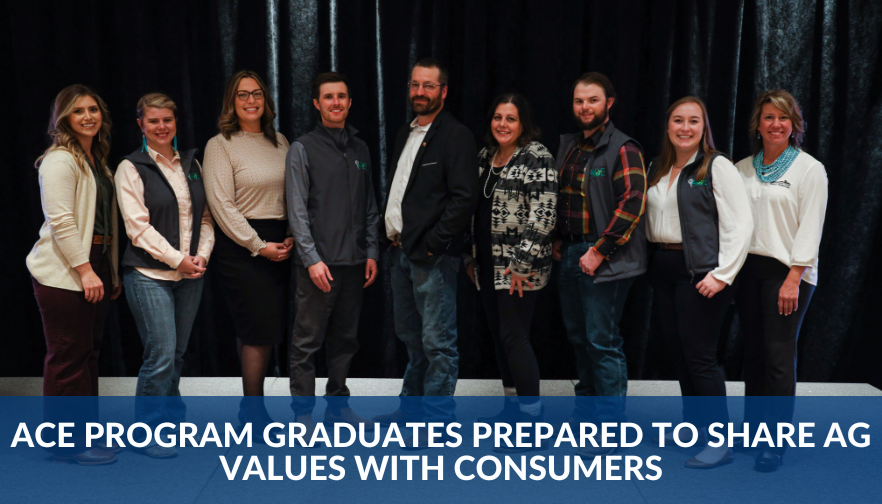 MISSOULA, Montana--Learning how to advocate for agriculture and support local communities has been a year-long endeavor for seven enthusiastic Montana Farm Bureau members who graduated from the ACE (Advocate. Communicate. Educate.) Leadership program November 14 during the MFBF 103rd Annual Convention in Missoula. On the first day of the MFBF Convention, ACE class members each delivered presentations regarding the final projects they're organizing in their local communities and county Farm Bureaus.
ACE emphasizes leadership development, issue education and the engagement of local communities. The participants spent 2022 honing their skills at six seminars to make a difference in the public's impressions of agriculture in their local communities.
During the graduation luncheon at the Hilton Garden Inn, Missoula County Commissioner and owner of Clark Fork Organics Josh Slotnick shared a leadership message with the class.
"To be a good leader, make a personal investment in whom you'll be leading and have a vision, but ask those whom you are leading to help you chart the course," Slotnick said. "Establish credibility by doing what you say you will do."
He said getting buy-in from your team is essential. "Have an invitation for people to join you, providing them with a sense of purpose and community."
Graduating member Josh Senecal praised the program, "Every class in ACE was top-notch. The leaders coming out of this program are going to make a positive impact on this state. This was an awesome program that will change our lives."
Applications for the 2023 ACE Program are due December 1, 2022. For more information and the ACE application visit www.mfbf.org. 
The 2022 ACE Graduates:
Andee Baker – Park City, Carbon/Stillwater County Farm Bureau – Andee has been active in the Montana State University Collegiate Young Farmers & Ranchers Club, interned with the American Farm Bureau in the Summer of 2021 and helped with the 2022 MFBF Convention. Project: Work with Collegiate Farm Bureaus on officer training.
Zach Coccoli - Helena, Lewis & Clark County Farm Bureau – Zach is the Deputy Director for the Montana Department of Agriculture. Project: Develop an immersive day trip to a farm and ranch for employees of the Department of Agriculture.
Morgan Kuntz - Dillon, Southwest County Farm Bureau – Morgan serves as the Director of Development for the Montana FFA Foundation, along with helping on the family ranch and starting colts. Project: Develop a live animal scholarship in Beaverhead County.
Lindsay Orem – Wolf Creek, Lewis & Clark County Farm Bureau – Lindsay is the Executive Director of the Montana Ag in the Classroom Foundation. Project: Develop ag education committees in schools to surface what communities need for ag education. 
Canyon Rehbein - Lambert, Richland County Farm Bureau – Canyon works full time on his family's farm and ranch and serves as president of the Richland County Farm Bureau. Project: Develop a Discussion Meet within FFA and schools to teach students how to have productive and meaningful conversations.
Josh Senecal – Ronan, Northwest Counties Farm Bureau – A Ronan-area rancher, horse trainer and president of Northwest Counties Farm Bureau. Project: Create a Family Ag Day in the spring to introduce families to agriculture, farmers and ranchers. 
Becky Stuart - Dillon, Southwest Counties Farm Bureau – Becky serves as graduation coordinator at University of Montana-Western and works on the family ranch.  Project: Community Connections to introduce agriculture and rural lifestyles to new residents in southwestern Montana.
For additional information on the ACE Leadership program, visit www.mfbf.org or call 406-587-3153.
The Montana Farm Bureau 103rd Annual Convention runs November 14-17 at the Hilton Garden Inn in Missoula.
###
Want more news on this topic? Farm Bureau members may subscribe for a free email news service, featuring the farm and rural topics that interest them most!