Young farmers and ranchers talk politics, learn about the legislature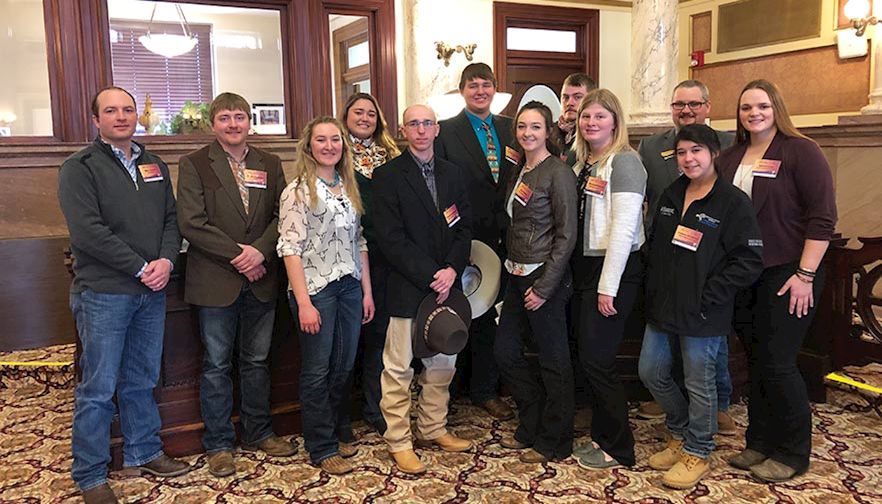 Learning about agency work, meeting with legislators and watching a Senate Floor Session was all part of the Montana Farm Bureau Young Farmers and Ranchers Calling on the Capitol January 31-February 1 in Helena. The YF&R Calling on the Capitol provides a great way for Collegiate Farm Bureau students as well as active farmers/ranchers to experience the legislative process first hand.
The Montana Farm Bureau lobbyists briefed the group on how a bill becomes law, how to work with your legislator and how to testify.
"It's important to know your audience and focus on a single issue," said MFBF Lobbyist Chelcie Cargill. "First, contact your legislator with an email or phone call letting them know what bill or issue you want to have input on. Be sure to use facts and figures and especially let them know how the outcome of a bill will personally affect you."
Meeting with agency personnel plays an important role in highlighting concerns about ag issues. In a morning of agency meetings, Mike Atwood, Department of Natural Resources, explained land banking and how this department works to find the highest income and best use of their lands to support schools. Personnel at the Department of Agriculture and Department of Livestock provided a summary of what their agencies entail, including the Growth Through Agriculture Grants, promoting Montana agricultural products internationally, livestock brand enforcement and prevention of animal diseases.
The group met with Jason Mohr one of several bill drafters at the Capitol. He explained that his job entails working with legislators to develop a bill that's understandable and legal. "I consider myself an advocate for the legislative branch. I don't work for either party," he said, adding that Montana has a very transparent bill process with all of the records being open and bills not being drafted in secret.
Watching discussion and votes taking place during the Senate Floor Session and sitting in on a variety of committee hearing rounded out the event. Senator Jeff Welborn, R-Dillon, spoke to the group and urged them to get involved in all aspects of politics. Welborn gives his involvement in the MFBF Young Farmer and Rancher Program credit for developing him into a leader. "We are seeing a larger and larger rural/urban divide in the legislature, and it's time for you to be the boots in the Capitol," he told the students. "Get to know your legislator before you come to Helena, then if there is a bill you feel strongly about, testify in a committee hearing and tell a personal story of how a bill will affect you. It's important that at some point you all run for office. It's imperative that people in agriculture get involved."
Will Scott, a sheep and cattle rancher from Fort Benton, said it had been 10 years since he had visited the legislature, and said the COTC helped him learn what is currently going on in the state capitol.
"I thought hearing Mike Honeycutt at the Department of Livestock talk about some folks bringing up that guard dogs be considered a livestock a really interesting point," he said. "I enjoyed hearing the bill drafter, Jason Mohr. It's amazing to learn how many bills they actually work on to put them into plain language."
Kaitlin Farver, president of the Miles Community College Collegiate Farm Bureau, said their advisor is a strong advocate of being involved and sending students to state and national events. "I'm hands-on," noted Farver, expressing her appreciation for being part of the YF&R COTC. "You don't realize everything that goes on behind the scenes when you watch something like a House Floor Session or a committee hearing. Coming to the COTC made me realize all the hours legislators spend working on different bills."
MFBF YF&R Chair Gil Gasper, a Circle farmer, praised how approachable Montana's leaders are to the general public. "We are really blessed that we have a citizen legislature and a very accessible government," he said. "You can walk in the door at the Capitol, pick up an agenda and go into a room to testify. You can head up to the Senate or House Gallery and watch bills being voted on. You can knock on your legislator's office door and have a conversation. It is truly remarkable."
Want more news on this topic? Farm Bureau members may subscribe for a free email news service, featuring the farm and rural topics that interest them most!