Young farmers and ranchers hone skills at national leadership conference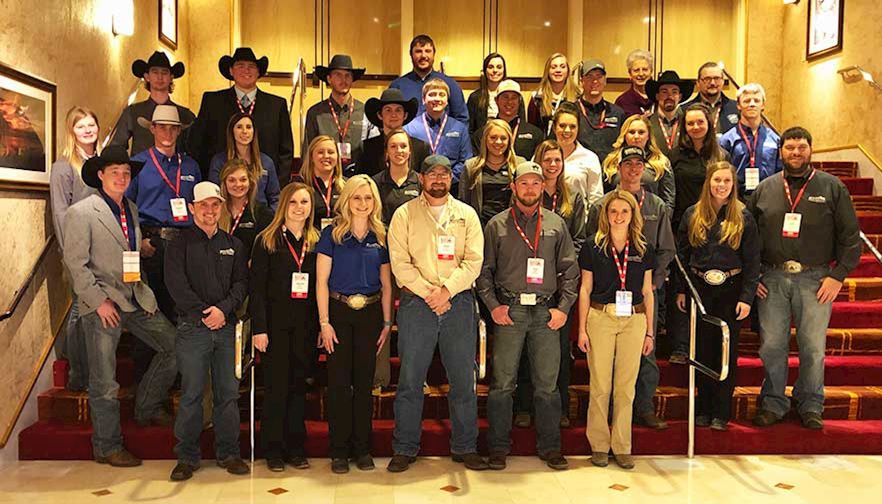 Montana Farm Bureau took a delegation of 38 participants to the American Farm Bureau Young Farmers & Ranchers Leadership Conference February 16-19 in Reno, NV. The theme, "Agriculture: Biggest Little Industry in the World" reflected different workshop topics including Collegiate, Engagement, Family, Leadership, Entrepreneurship, On The Farm, Relationships and Technology.
Jasmine Evans, president of the Collegiate YF&R at Miles Community College primarily attended the leadership and engagement workshops, and gleaned many new ideas to bring ideas back to campus and her county Farm Bureau. She had praise for the speakers, as well.
"Motivational speaker Mark Lindquist's address really resonated with me," Evans said. "He grew up on a farm in western Minnesota and talked about growing up in ag. His theme was that farmers and ranchers must have passion to continue what they are doing. They don't make a lot of money in their chosen profession, so it's their passion for agriculture that keeps them going."
Evans toured a small dairy at the Northern Nevada Correctional Facility where inmates milk 100 cows and have a small plant where they bottle and distribute milk to other institutions. "In addition, we learned about the program where the inmates train BLM wild horses," Evans said. "While we were visiting, they were getting the horses ready for an upcoming auction. It was eye-opening to see everything that goes into the inmates working with wild horses."
The student was impressed with the entire travel experience offered by YF&R. "When you attend a conference like this, it's incredible. There are so many different breakout sessions tailored to what you want to do in college to what you want to do on your ranch," she said. "The grand finale dance and dinner was a wonderful time to network and share contact information with people from all over the country."
MFBF YF&R Chair Gil Gasper is no stranger to the YF&R National Conference and had nothing but praise for the Reno event. "Since I'm the YF&R chair, I mainly attended the leadership workshops. We visited with state YF&R chairs and coordinators and discussed what we all are doing in our states. This conference provided an excellent opportunity to gather new ideas for recruitment and retention."
Gasper's tour included a visit to Krone, N.A., a German manufacturer of hay and forage equipment. "Especially interesting is that Krone set up one of their distribution centers in Reno, which is only 30 miles from California. This way, they can be close to the coast, but are located in a business-friendly state."
This was the first time that Tyler Hamm, secretary of Meagher County Farm Bureau, attended. "This was a conference that I thought about attending in the past and I received the $1,500-dollar sponsorship from Montana Farm Bureau to attend. That definitely was the major reason I was able to go and I cannot thank them enough for that," Hamm said.
Although the young rancher didn't follow a specific track on the workshops, he was impressed with the variety. "I attended a financial planning workshop that gave some good advice and tips to follow when talking to your financial institution. It went over creating a business plan and budget worksheet and what exactly your lender will look for."
The tour Hamm selected was of Bentley Ranch and Jacobs Berry Farm. "Both places used diversification to help create income for their operation,' Hamm said "It was interesting how both a huge cattle ranch and a five-acre farm do multiple ventures inside their operation to help their bottom line."
He gives the conference, which drew more than 1,000 participants, the thumbs up. "Besides the learning opportunities available I would say the best part of the conference was meeting people and learning about all the different farms and ranches. It was good to see the younger folks that are such great leaders for agriculture. I met a couple from Georgia who were advocates for agriculture in urban areas with no ag background, to other cattle producers from around the country and just about everything in-between. I recommend any young farmers and ranchers should attend. Keep in mind that by being involved with the county and state Farm Bureau YF&R programs, there can be opportunities for financial assistance if needed."
Want more news on this topic? Farm Bureau members may subscribe for a free email news service, featuring the farm and rural topics that interest them most!