We're Hiring! Southwest or Western Montana Regional Manager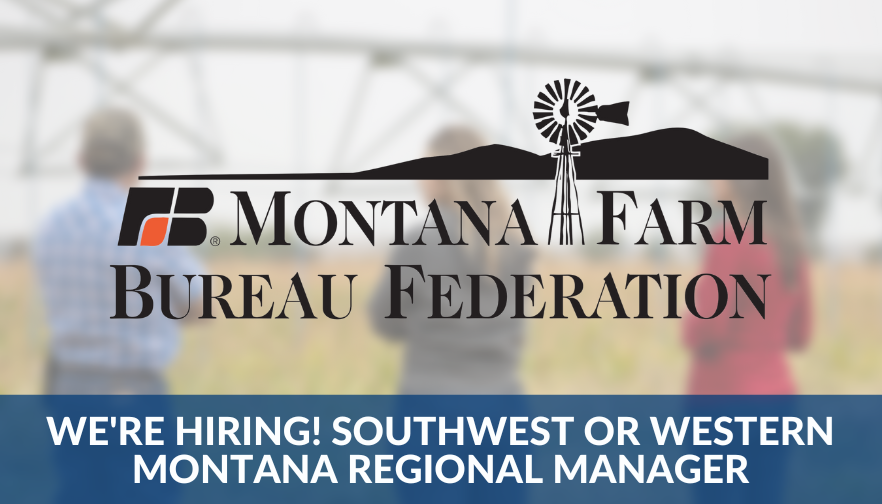 BASIC FUNCTION:            
The regional manager will reside in a designated region in Southwest or Western Montana, work out of a home-based office and serve 8-10 county Farm Bureaus. The regional manager's basic function will be to surface, provide training, counsel county leaders and assist them in planning, developing and implementing programs and activities to promote membership growth and carry out the policies of the county, state and American Farm Bureaus.
RESPONSIBILITIES:
 Surface, provide training and counsel potential county Farm Bureau leaders.
 Provide training, advice, and assist individual leaders in the planning and execution of programs and activities of county Farm Bureaus.
Plan and facilitate district training meetings.
Promote attendance at Farm Bureau multi-county and state meetings.
Attend county board meetings and other county meetings as needed.
Serve as a liaison between the state and county Farm Bureaus.
Assist county Farm Bureaus in achieving membership quota goals through recruitment and retention of members.
Promote, facilitate and maintain a working relationship between counties and affiliated services.
Provide training to county membership secretaries on membership processing procedures and member services.
Educate and update county leaders and affiliated company field personnel on Farm Bureau history, philosophy, activities and member services.
Understand and know Farm Bureau policy.
Serve as coordinator for designated Commodity Advisory Committees.
Perform other duties as directed by the Executive Vice President.
ROLE OF REGIONAL MANAGER:


The regional manager is a trainer and facilitator, an organizer, a coordinator and a liaison.  They are educators and sources of information.  They give assistance, encouragement and support to volunteer leaders.
The regional manager provides information and training to county presidents, county directors, county committee members and other leaders, which enables volunteers to perform their leadership duties successfully.  It is not their duty or responsibility to perform the task, but to provide the tools and guidance to involved members who then carry out the various job functions.
Developing strong and active county Farm Bureaus is one of the primary functions of the staff.  To achieve the objective, county Farm Bureau leaders and members must have the best information and assistance available.  Regional managers serve as a valuable resource to the county Farm Bureau leadership.
COMPENSATION:
Compensation is negotiable and commensurate with experience and a comprehensive benefits package is offered.
CONTACT:
For more information or to submit a resume contact; Scott Kulbeck, Executive Vice President, scottk@mfbf.org with a copy to Diana Bailey, Executive Secretary/CFO, dianab@mfbf.org.
Want more news on this topic? Farm Bureau members may subscribe for a free email news service, featuring the farm and rural topics that interest them most!