The Table is Set…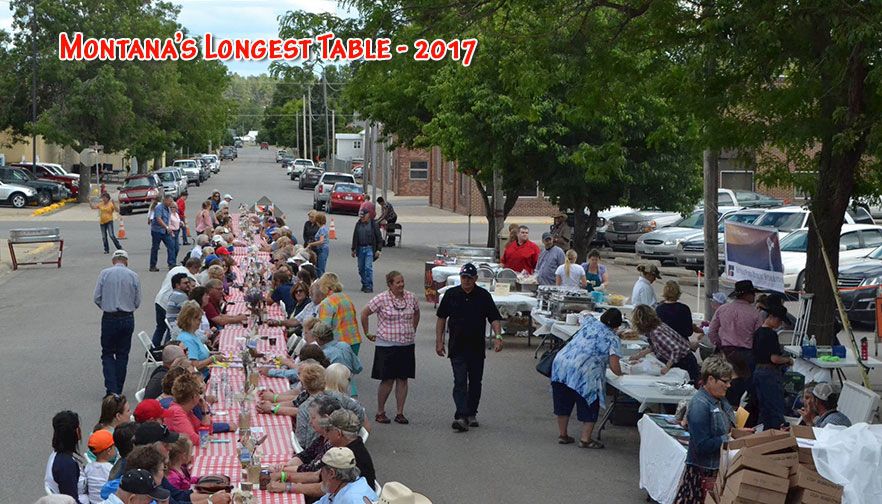 For a lot of us, the thought of getting the entire family to sit down at the supper table at the same time, with no outside distractions and the idea of good conversation is completely mind blowing. Earth shattering, really. So when a group of us decided to do just that, but to invite 200 unrelated people (well, mostly unrelated, it is a small town so you know how that goes) to the table, nobody was sure what was going to happen.
Montana's Longest Table was orchestrated by the Fergus County Extension Service, sponsored by the Lewistown Downtown Association and got started when a committee of local business owners, ranchers and ag organization representatives came together with the task of showing the Lewistown community how vital the relationship between agriculture and the success of its downtown businesses is. After brainstorming various ways to do this, the idea of inviting both city and country folk, to sit united at a never-ending table in the middle of downtown Lewistown was born.
With the theme "Town and Country Celebrating Together" in mind, ideas started pouring in and plans started being made. Before we knew it, we had a dozen local restaurants taking part in the event, each making one part of a mouth-watering, tray-filling meal that highlighted the immense variety of Ag products grown in Montana. The menu included everything from pulled pork sandwiches, barbecued ribs and roast beef which focused on the various meats grown in Central Montana to lentil salad from a local organic lentil farmer, fried ice cream to highlight the dairies around here, caramel rolls using locally grown wheat, and of course you can't forget the local beer, showcasing the barley waving in fields all across the state.
With the food taken care of and a band lined up, we turned our attention to the real reason for the event—cultivating the relationship between agriculture and downtown. So, like every good Farm Bureau speaker says to do, we turned to education. State organizations and local commodity groups set up booths, a petting zoo took a corner of the block where kids could get up close and personal with calves, lambs, and other animals, "Did you Know" placards adorned every table setting with facts about agriculture and the history of Lewistown and everywhere else we had an opportunity to tell people about agriculture, we did.
There were a lot of moving parts to this event but by the time June 24th rolled around and the streets were blocked off so people could find a seat at the two-block-long table, everything came together. Tickets were completely sold out, the smell of food wafted in and out of downtown businesses, the band was all set up and ready to go and the emcee took her spot at the outdoor microphone…and just like that, 200 people were sitting down together at Montana's Longest Table.
For $10 a plate, everyone who took part in the event walked away with a better understanding of how agriculture and the economy of Montana's rural towns work hand in hand—not to mention a full stomach and sore feet from dancing the night away. All in attendance deemed the event a huge success and ideas for next year's festivities are already pouring in.
It goes without saying that June is a busy time for everyone but on one hot, summer night, a small town in the middle of Montana proved that for a good cause and great fun, people of all walks of life can put their demanding schedules on hold to join forces and show their appreciation for their community and each other…and the knowledge that here, agriculture reigns supreme.
Want more news on this topic? Farm Bureau members may subscribe for a free email news service, featuring the farm and rural topics that interest them most!