The Session Begins Wrapping Up, Montana Farm Bureau Celebrates Legislators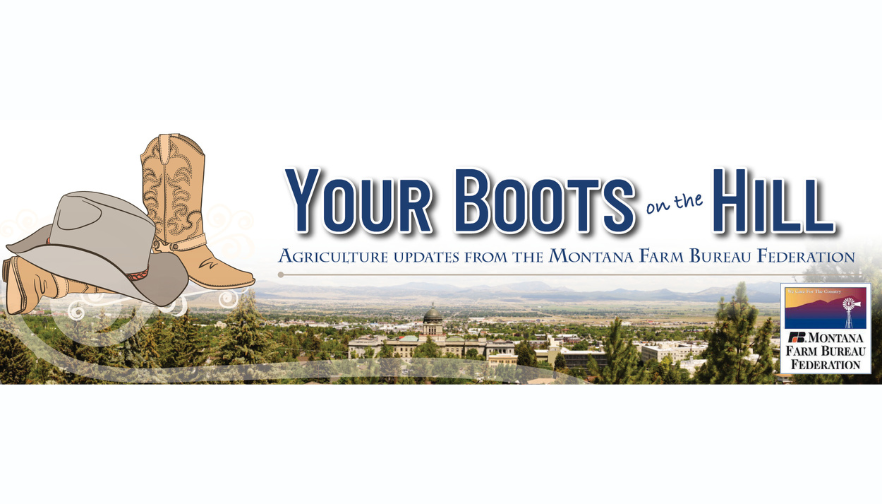 By Rachel Cone and Nicole Rolf, Montana Farm Bureau Federation
            With nearly 10 days left of the 68th Legislative Session, we are seeing bill hearings wind down and final parts and pieces of bills being worked on, so the remaining bills can pass the legislature and head to the governor's office. Montana Farm Bureau, so far, feels successful in our advocacy for agriculture, with most of the bills we took action on following the position we encouraged. This success does not come without the hard work of the legislators who have taken the past four months away from their homes and families to do the work and create a better future for Montana. While this week did not have as many bill hearings, it hosted many long floor sessions for both the House and Senate. 
            We want to express our gratitude to all 150 legislators in Helena, with specific recognition of those who get to hear from us most often, including the Senate and House Agriculture Committees, Natural Resources Committees and Taxation Committees. The legislators serving on these important committees have no small task. From sponsoring and carrying bills to making tough decisions on their vote on the bills they hear, we appreciate their work and the time they take to discuss agriculture with Montana Farm Bureau. 
            This week we got to show legislators our appreciation by working with other stakeholders in hosting celebratory dinners for the Taxation Committees on Tuesday and the Agriculture Committees on Thursday. While we will continue to celebrate other committees that work closely with us, these two dinners allowed us to highlight some of the important work done in this session. 
            Both the House and Senate Agriculture Committees heard bills in regard to Right to Repair this session, and both committees were open to listening to the Montana Farm Bureau opposition, letting us explain why a free-market approach is better than the proposed legislation and ended up voting no on that bill. One conversation at the Agriculture Dinner elaborates exactly why the relationship between Farm Bureau and legislators is important. As we recalled this bill, one freshman legislator reminded us that while basic ideas are often supported, it's important to read the fine details of each bill and understand exactly how the legislation would impact Montanans. He noted that once he heard from MFBF on those details and the unintended consequences it could have, it shaped his decision on how to vote. This is one of the many examples of the work done throughout the session where we appreciate the opportunity to talk with legislators and advocate for our position. Legislators are not required to take time and listen to anyone, so we are lucky to have the right "boots on the Hill" in Helena. 
            As we approach the end of this session, we are still watching a couple more bills as they reach their final steps in their legislative journey. We expect to see many of our bills we acted as proponents on reach the Governor's desk soon and become law. Pay close attention to the weekly Legislative E-Source for updates on where each bill we took a position on sits as of now.   
For more legislative updates and details on these issues, follow our Live with Your Lobbyist broadcast each Friday at noon on our Montana Farm Bureau Facebook Page. 
Nicole Rolf is the Senior Director of Governmental Affairs and a rancher from Miles City, Montana. Nicole works closely with our Congressional delegation on national issues affecting Montana agriculture. Additionally, this is her eighth Montana Legislative Session, lobbying in Helena on behalf of MFBF members. She also works as the Southeastern Montana Regional Manager. Nicole can be contacted at nicoler@mfbf.org.
Rachel Cone is the Director of State Governmental Affairs for Montana Farm Bureau Federation. This is Rachel's second session lobbying on behalf of Montana Farm Bureau. Rachel is involved throughout the interim session to track how bills will come to the session. Rachel focuses on water issues throughout the legislative session and lobbies on all topics impacting Montana Farm Bureau members. Rachel can be contacted at rachelc@mfbf.org.
Want more news on this topic? Farm Bureau members may subscribe for a free email news service, featuring the farm and rural topics that interest them most!