Tax relief on the horizon for Montanans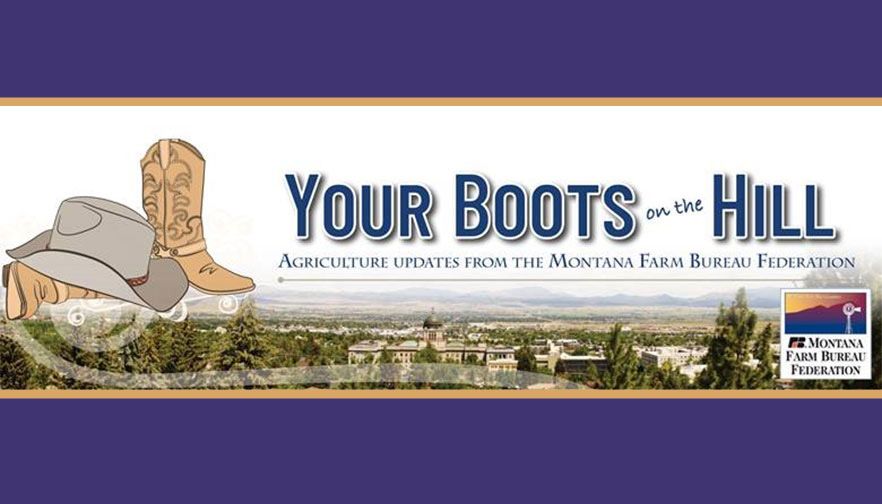 In addition to work on a bevy of agriculture-related bills this week, your Montana Farm Bureau lobbyists supported new state administrators and several fellow Farm Bureau members on their confirmation hearings for leadership in Helena this week.
We were pleased to support the confirmation of Mike Foster as Director of Montana's Department of Agriculture and Amanda Kaster as Director of the Department of Natural Resources and Conservation. We also supported the confirmation of Judge Stephen Brown to the Montana Water Court. 
Governor Greg Gianforte's appointees have sent a clear message on what we can expect from this administration. The Governor wants strong leaders who will provide a sense of customer service to the constituents they work for and the programs they oversee. We've seen Gianforte's focus on improving the state's economy and building up a strong business climate take shape in positive ways in these leadership choices. 
Foster and Kaster each reached out to Montana Farm Bureau and other agricultural organizations to discuss priorities for our members, priorities for their department and where we might focus common efforts. This goes a long way to show farmers and ranchers that the agencies that most impact our lives and livelihoods will be responsive to our realities. 
We were also pleased to support the confirmation hearings of several Montana Farm Bureau members to producer-led boards this week. Gene Curry and Alan Redfield, ranchers from Valier and Livingston, respectively, were appointed as members of the state Board of Livestock.
 Bing von Bergen, a member of Judith Basin County Farm Bureau, was appointed to the Board of Hail Insurance. Doreen Gillespie, a Front Range County Farm Bureau member and graduate of the 2019 Montana Farm Bureau A.C.E. Leadership Class, was confirmed to the Livestock Loss Board, along with Sweet Grass County Farm Bureau member Elaine Allestad. Staci Ketchum, a Custer County Farm Bureau leader, will serve on the Board of Milk Control. 
If you know any of these individuals as friends, neighbors, or community members, take a moment to congratulate them and thank them for stepping into these leadership roles. 
While we testified on an array of bills this week, one theme dominated our attention: taxes. The governor's goal is to create a business-friendly climate in Montana to attract new business and to help existing businesses succeed. In that same vein, many of these tax bills will make direct positive impacts on individuals in our rural communities.  
House Bill 303: Revise business equipment tax laws: Business Investment Grows (BIG) Jobs Act, 
sponsored by Rep. Joshua Kassmier (R), HD 27. Montana Farm Bureau member policy supports.
Farming and ranching are equipment-heavy businesses. Balers, combines, loaders, and more – the tools we need to efficiently raise the crop and livestock – are expensive, which is why this bill's exemption increase on business equipment is a well-welcomed relief for farmers and ranchers. Class eight property includes agricultural implements and equipment, among other industry necessities. This bill would make the first $200,000 of class eight property exempt from taxation, doubling the current $100,000 exemption. While this is good for farmers and ranchers, it's also good for our rural economy. Those tax savings may encourage a farmer to add another piece of equipment to the lineup or allow a rancher to reinvest in upgraded fencing, all boosts to our local economies. 
House Bill 252: Non-refundable tax credit for employer-paid education of trade professionals, 
sponsored by Rep. Llew Jones (R), HD 18. Montana Farm Bureau member policy supports.
Time is money to farmers and ranchers, and skilled tradesmen and women save farmers and ranchers both. This bill would offer a tax credit of up to $2,000 per employee for employers who choose to send workers to trade school or technical training. The trades education would benefit mechanics, welders, roofers, electricians, plumbers, sheet metal workers and more. When we're trying to get a calving shed built or a well wired, we need it done in a timely manner. Offering incentives to employers to increase training in these trades offers a huge benefit to Montana's agriculturalists. Having more skilled workers available makes it easier and more affordable for agriculturalists to get their work done.
Montana Farm Bureau Federation state Vice President Cyndi Johnson, a farmer from Conrad, testified to the House Taxation Committee in support of the bill.  "I speak in favor of House Bill 252, supporting the investment in the trades that encourages the local businesses that help keep agriculture moving," Johnson said. "Sometimes, the fate of my ag production year lies in the hands of those who are technically trained to perform repairs or to diagnose equipment failure." 
Senate Bill 159: Personal Income Tax Relief Act, 
sponsored by Sen. Greg Hertz (R), SD 6. Montana Farm Bureau member policy supports. 
This bill offers a simple reduction in income tax on any taxable income in excess of $18,700. This broad-based relief means many Montanans will benefit from this reduction. The proposed reduction would drop that tax bracket from 6.9 percent to 6.75 percent. It's a small reduction, but it puts Montana on a more competitive level with surrounding states. Even a few extra dollars in a farmer or rancher's pocket makes a valuable investment in their rural community and local economy. 
The Governor also signed his first bill into law this week.
Senate Bill 65: Revise civil liability laws
limits the liability of businesses, health care providers, nonprofit organizations, and places of worship and protects them from coronavirus-related lawsuits, provided they take measures to protect individuals from COVID-19 and follow public health guidelines. Montana Farm Bureau members strongly supported this legislation and are glad to have seen it through the legislative process. 
For more legislative updates and details on these issues, follow our Live with Your Lobbyist broadcast each Friday at noon on our
Montana Farm Bureau Facebook Page. 
Nicole Rolf is the Senior Director of Governmental Affairs and a rancher from Miles City, Montana.  Nicole works closely with our Congressional delegation on national issues affecting Montana agriculture. Additionally, this is her seventh Montana Legislative Session, lobbying in Helena on behalf of MFBF members. She also works as the Eastern Montana Regional Manager. Nicole can be contacted at 
nicoler@mfbf.org.
Rachel Cone is the Director of State Affairs for Montana Farm Bureau Federation. This is Rachel's first session lobbying on behalf of Montana Farm Bureau. Rachel is involved throughout the interim session to track how bills will come to the session. She also coordinates the MFBF Water Committee, the Resource Management, Environment and Technology Committee and the Livestock Committee in addition to being the Treasurer for the Farm Bureau PAC. Rachel can be contacted at 
rachelc@mfbf.org.
Want more news on this topic? Farm Bureau members may subscribe for a free email news service, featuring the farm and rural topics that interest them most!