Summer conference tackles policy concerns, celebrates successes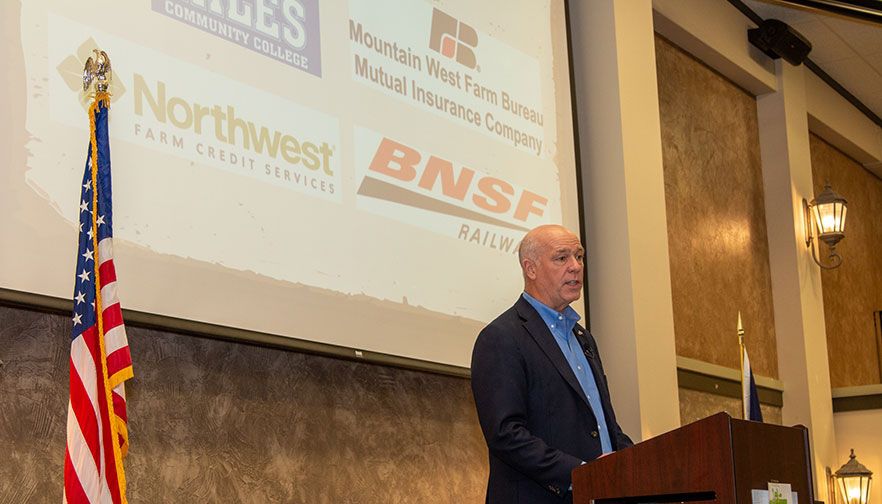 Farmers and ranchers attending the 2021 Montana Farm Bureau Summer Conference received a wealth of information on advocacy and policy, as well as updates from Montana Governor Gianforte. More than 200 agriculturalists traveled June 7-9 to the Great Falls to attend committee meetings and learn more about ag issues.
In his address, Governor Gianforte cited the successes of the 67th Montana Legislative Session including increasing funds to help with livestock recovery, addressing irrigators' concerns to address critical infrastructure projects, and tripling the Business Equipment Tax exemption to $300,000.
The governor urged the group to participate in his Red Tape Relief Tax Force. "I'm counting on farmers and ranchers to help us identify outstanding, unnecessary and burdensome regulations."
In addition, he noted that the Montana Brand is essential to promote, and said it's time for agriculture to "gain control of the supply chain, capturing a premium for the Montana Brand."
Trade, taxes and regulations were in the forefront of the meetings with American Farm Bureau Policy Director Dave Salmonsen, who said that lack of and cost of shipping and shipping containers is causing a huge backlog which is, in turn, "causing a real problem for ag exports. We need to find a better way to get the containers inland, get them filled expeditiously and get them back onto the ship."
Another backlog regarding trade is the White House's continued lacking of a Chief Ag Negotiator at the U.S. Trade Representative's office as well as failure to appoint an Undersecretary of Trade at the U.S. Department of Agriculture.
Shelby Hagenour, AFBF policy director, covered "What's on the Horizon in Washington, D.C." and indicated that relisting and listing of Endangered Species will be on the Biden Administration's docket, and noted that farmers and ranchers "need to have eternal vigilance and fight in all venues."
Will Trachman, Mountain State Legal Foundation, told the group about current lawsuits the constitutional rights Colorado-based non-profit is involved with. A recent lawsuit centers around the Biden Administration providing $4 billion to forgive loans for socially disadvantaged farmers and ranchers in the American Rescue Plan Act of 2021 (ARPA) COVID-19 stimulus plan; white farmers and ranchers were excluded which is a violation of the Constitution's guarantee of Equal Protection.
On the advocacy front, Michelle Miller, a/k/a The Farm Babe, noted that in the past, there were credible sources in the media, but today, with the advent of social media, anyone can claim to be an expert, disseminating misinformation.
Miller said that it's best to debunk myths by sharing the message and bridging the gap. "Share your information about agriculture, tell stories, include some humor," she said, adding that if social media isn't your thing, talk to the people who are in the produce and meat departments at the grocery store, talk to your local news outlets and visit with schools. "There are things we can't control, but we can control perception."
Ten issue advisory committees, as well as the Women's Leadership, Promotion & Education Committee and Young Farmers & Ranchers Committee, met to discuss policy and hear educational speakers during the conference.
During the Wednesday ag tour, participants had the opportunity to see "Farm to Plate" in action, where the McCafferty family talked about their unique way to raise grass fed beef that is well marbled and tender. The group visited Central Avenue Meats, a custom butcher shop, and talked about how they can interact with consumer to bridge the gap. Lunch tied in the "Farm to Table" theme with tasty burgers which were sourced from the McCafferty Ranch and processed through Central Meats.
The Montana Farm Bureau Foundation Fundraiser at the Ryan Dam raised an astonishing $30,000. The MFB Foundation supports Montana agriculture through education, research and community support, with a special emphasis for the development of our youth.
"Even with the ongoing drought and concerns on the national scene with trade and regulations, our farmers and ranchers were positive and are ready to take on challenges," noted Montana Farm Bureau President Hans McPherson. "The fact our members and associates were so generous during our foundation fundraiser shows the optimism and caring in our ag community."
Want more news on this topic? Farm Bureau members may subscribe for a free email news service, featuring the farm and rural topics that interest them most!