Ready, Set, Grow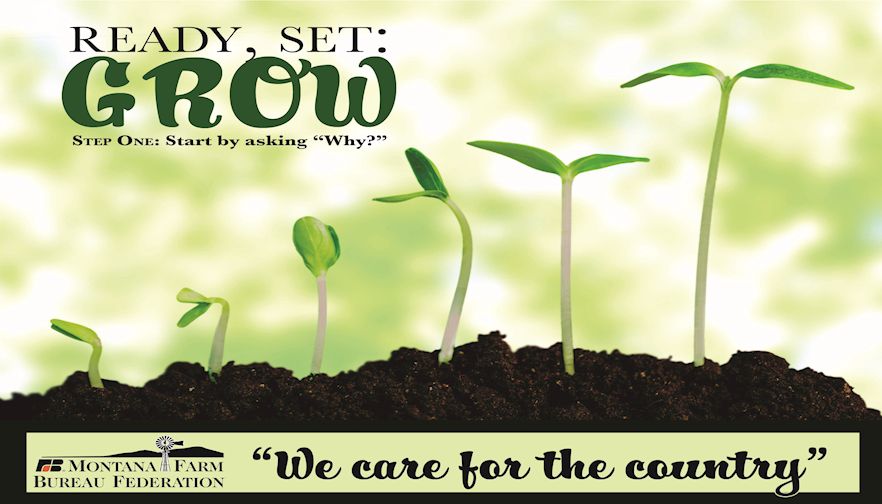 We're ready to pull out the big guns.
It's time to talk about the final aspect of why membership recruitment is so important to the continued growth and vitality of Montana Farm Bureau. As a grassroots organization, we're funded by the membership dollars that come in each year, so membership recruitment, or lack thereof, directly impacts our bottom line and the quantity and quality of the programs offered.
Additionally, more members in your county Farm Bureau ultimately gives you more voices at the table during the delegate session at the MFBF Convention and puts more Montanans on the floor during the AFBF delegate session.
As volunteers, we know your time is precious and it can be a real challenge to carve spare time for additional activities. That's why we've created a step-by-step guide to planning a membership campaign for your County Farm Bureau.
We've discussed the perks of a more individual approach to membership work. While either format is perfectly acceptable, there are benefits to a large-scale, county wide membership drive.
Create momentum—a bigger campaign gives you something to talk about. Advertise your campaign locally and inform folks that a county Farm Bureau member may visiting with them about becoming members soon.
Create consistency

—if you plan a membership campaign, it becomes part of your County Farm Bureau's yearly program of work. Over time it builds a reputation and then people simply expect that the Farm Bureau will be recruiting new members every year.
Many hands make light work—County Farm Bureaus have membership quotas to reach each year. There are a variety of reasons why this is harder in some years than in others, but the more the merrier and the faster you'll hit your recruitment goal.
Before we get into the specifics of how to organize and execute the campaign there are a few principles that need to be considered first.
Why—consider why you're holding the campaign. We mentioned a few good reasons above; increased representation for your county Farm Bureau at the MFBF convention and more dollars to put back into County Farm Bureau events and programs. Is membership declining? Do you need new leadership within your county Farm Bureau? All of these are important reasons to hold a membership campaign and will have an effect.
When—timing is everything. While there may never be a 'good time' for anything, there are certainly seasons that are better than others. Think about the demographic of your County Farm Bureau members. Are they predominantly a farming or ranching community? Planning around the busiest times of the year will make your campaign more successful.
How—even though we're going to be discussing the 'how' in great detail, it's a good idea to plan ahead and envision how you want your membership campaign to go. Visit with your County board members and other Farm Bureau members. Get their opinion on what makes a great membership campaign. Once you have your vision, you can apply our steps to the planning and implementation.
Starting next week, we'll take a look at the first few steps in organizing your membership campaign.
Want more news on this topic? Farm Bureau members may subscribe for a free email news service, featuring the farm and rural topics that interest them most!