President Trump cites successes in farm policy, trade at American Farm Bureau Convention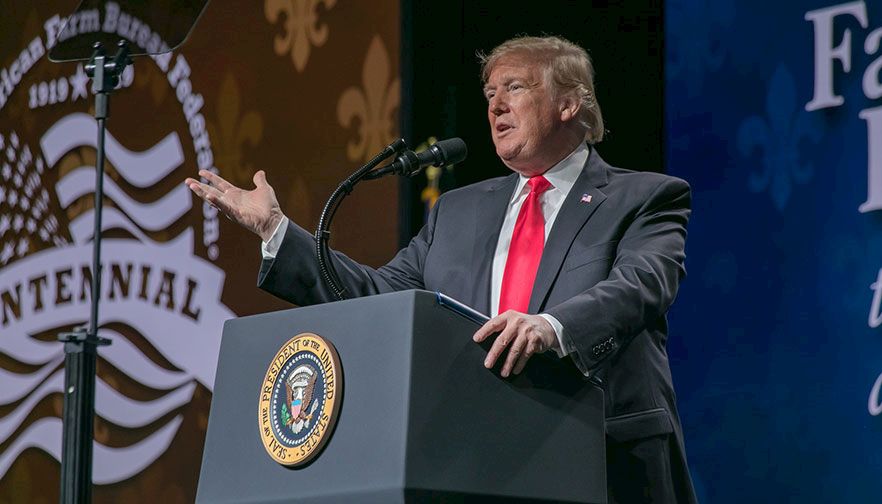 Hearing President Donald Trump speak at the American Farm Bureau Annual Convention in New Orleans was top of the list for the 45 members attending the Montana Farm Bureau Convention. In his hour-long talk, the president covered topics important to America's farmers and ranchers ranging from immigration to trade to curbing onerous regulations.
Trump began his speech stating, "I like farmers" and promised the attendees that his Administration would continue to work on the issues that matter most to rural America. He talked extensively about keeping America safe by building a wall on its southern border, noting that as president, the defense of the nation is his top priority. He explained that he's not against immigration, but people need to come into the country legally.
"I want people to come in legally," he said. "You need people to help you with the farms. I'm going to make it easier for them to come in and work the farms," he said to applause from the 6,000 Farm Bureau members in the audience.
He pointed out successes during his presidency, including tax reform, and the fact that the death tax has virtually been eliminated. He gave kudos for passage of the 2018 Farm Bill which included crop insurance and he listened to farmers and ranchers and was successful in killing the Water of the U.S. Rule so farmers can get back to farming.
Although trade wars have been detrimental to agriculture, Trump stated that the Administration is finding fair trade deals for America and noted that the new U.S. Mexico Canada Free Trade Agreement is exceedingly better for farmers and ranchers than NAFTA. He pointed out new deals with Korea, Argentina, Japan and more.
The president showed his appreciation for farmers and ranchers. "Our nation was founded, settled and built by farmers from the fields of Pennsylvania…to the Big Sky of Montana…farmers have always led the way."
"To all the farmers attending here today and across the U.S., the greatest harvest is yet to come. The future for America's farmers is bolder and brighter than ever before," he concluded.
MFBF President Hans McPherson said Trump was "awesome. He understands what farmers and ranchers are going through, been through and what we need to get through."
Gary Heibertshausen, a sheep rancher from Alzada, thought Trump brought up good points. "When you see the list of what the government has done since Trump got into office it's been a big plus for agriculture. He's doing a good job and doing a lot for making trade with other countries fair."
Patti Davis, a cattle rancher from Belgrade, said signing the farm bill in December helps the whole country. "A lot of people don't realize it, but only 20 percent of the funding in the farm bill goes to the farmer; almost eighty percent goes to feed the rest of the population. It's about time we have a president who understands what it takes for farmers and ranchers to feed the world."
Want more news on this topic? Farm Bureau members may subscribe for a free email news service, featuring the farm and rural topics that interest them most!