National commodity conference covers realm of ag issues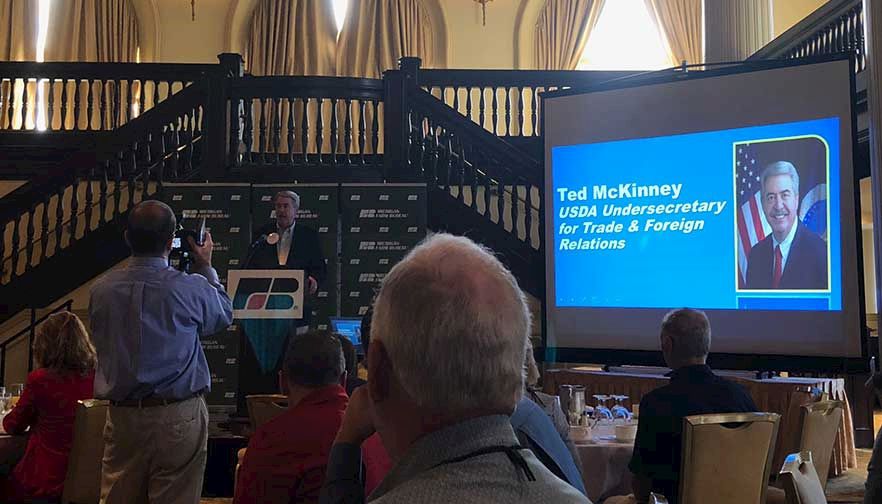 Trade and the farm bill topped the list of topics discussed during the Joint National Commodity Conference June 24-27 in Grand Rapids, Michigan. Two Montana Farm Bureau ag producers had been selected to serve on national commodity committees: Gail Vennes, beef and Russel Steinbeisser, sugar and pulse crops.
USDA Undersecretary for Trade & Foreign Agriculture Affairs Ted McKinney shared his knowledge about the trade and tariff situations, while American Farm Bureau President Zippy Duvall and AFBF Chief Economist John Newton talked about the farm economy and the farm bill.
"It was an exceptional opportunity to hear Ted McKinney," said Steinbeisser, a sugar beet farmer from Sidney. "His message was positive and reassuring about trade agreements being accomplished. He feels that an agreement with Mexico is close and Canada is not far behind, although these may be separate agreements. Once these trade deals are in place, he expects other countries will be more willing to facilitate other trade agreements. He did indicate that China may take a little longer and hopes that farmers will be patient."
He added that McKinney talked about China being a concern. "He noted that the Chinese aren't really playing fair, and the U.S. trade negotiators are busily working to get trade agreements to take away tariffs. However, that's difficult, especially with ag products at the forefront. McKinney said the Chinese consumers are increasingly coming up to middle class and want quality food. The U.S. can deliver, so it's important to come forth with a workable trade agreement. He talked about the TransPacific Partnership situation and that they are also working with Japan."
Vennes, a rancher from Townsend, said he talked one-on-one with both McKinney and Duvall. "McKinney is optimistic a trade deal with Mexico will work out and believes the U.S. will have more bi-lateral agreements instead of multi-lateral. My visit with Mr. Duvall was good as he knows a lot about western issues."
Steinbeisser said the sugar and pulse crop committee meeting was fortunate to have Rick Gerstenberger, current president of the American Sugarbeet Growers Association & Ray Van Driessche, Director of Community & Government Relations for Michigan Sugar and former ASGA president. The discussion was mainly about the farm bill and the fate of sugar policy.
"The feeling is that sugar will be left alone at this point in the farm bill," noted Steinbeisser, who serves as chair of the MFBF Sugar Committee. "We discussed the Antidumping Duty Suspension with Mexico. General consensus is that it is working and hopefully will be extended. We covered issues with insurance pertaining to cane growers provided by Brian Breaux of Louisiana Farm Bureau. It was noted how important it is to keep cane and beet producers working together for the good of the industry."
Vennes, who serves as chair of the MFBF Animal Health Committee, gave a report on the situation with the Montana Beef Council and the lawsuit regarding the legitimacy of the Beef Check-off in Montana. "I explained that it's still in limbo. This is on the radar all over the country in regard to all check-off programs. They are waiting to see what happens with the Montana Beef Council situation."
The committee covered animal disease traceability and electronic identification systems. "I told them that our Department of Livestock feels very comfortable with traceability using our branding system and brand laws," Vennes said. "In addition, we talked about fake meat, and decided we need a definition for it as well as a determination of who regulates it—the U.S. Department of Agriculture or the Food and Drug Administration."
The group had a day out of the conference center where they saw unique Michigan agriculture. "The tours were excellent," said Steinbeisser. "Michigan has very diverse production agriculture. We were able to tour an apple/cherry orchard and winery, a fresh vegetable farm raising cabbage, squash and sweet corn for local markets, and a blueberry farm with a packaging facility. It was very interesting to see these different operations. We really enjoyed a trip to Lake Michigan. They call it the Michigan Ocean because it is so vast."
Both men found the entire meeting a great opportunity to network and get first-hand perspectives from some top industry and government officials, as well as come together with other producers from different parts of the country to share information.
"The most talked about subjects among the farmers were the trade agreements and the tariffs. Both were well addressed at this conference. The other most mentioned comment was requests for Montana to host the National Commodity Conference next year because they all want to come," Steinbeisser said.
Want more news on this topic? Farm Bureau members may subscribe for a free email news service, featuring the farm and rural topics that interest them most!