Montana Farm Bureau recognizes Leopold Award Winner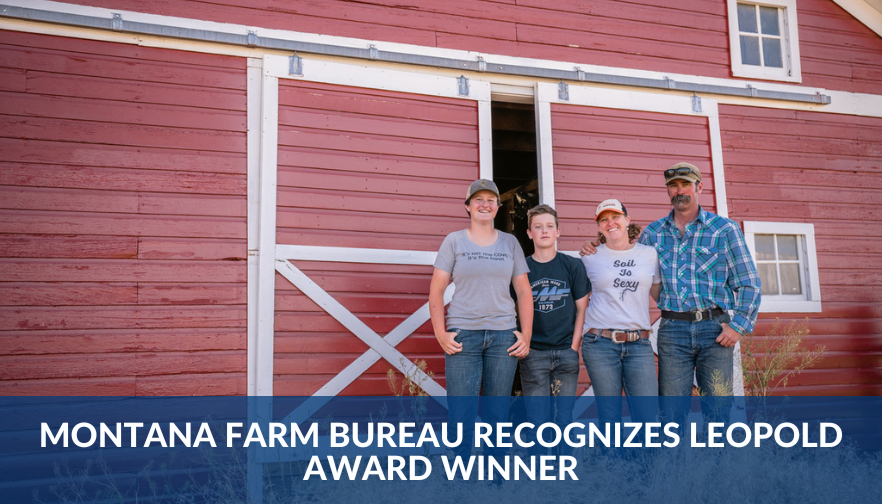 MISSOULA, Montana – Montana Farm Bureau recognized Barney Creek Livestock as the 2022 recipient of the Montana Leopold Conservation Award® during its 103rd Annual Convention November 14-17 in Missoula. 
Given in honor of renowned conservationist Aldo Leopold, the prestigious award recognizes farmers, ranchers and forestland owners who inspire others with their dedication to land, water and wildlife habitat management on private, working land. 
As owners of Barney Creek Livestock, Pete and Meagan Lannan are cattle ranchers who are showing others how conservation practices can heal landscapes. The Lannans are innovative ranchers who found a way to raise beef cattle amid exorbitant land values in Montana's Paradise Valley. As owners of Barney Creek Livestock, they became land managers who show others how conservation can heal landscapes.
The USDA Natural Resources Conservation Service's Environmental Quality Incentives Program helped with that conversion. With its financial and technical assistance, the Lannans mapped out grazing plans and upgraded their fencing and water infrastructure. Water and energy efficiencies were gained when a flood irrigation system was replaced with a pipeline delivering water to livestock tanks and a sprinkler irrigation system.
"The Montana Farm Bureau is thrilled to recognize the Lannan family for their dedication to their livestock, land and the sustainability of their ranch and the fact they are willing to share their land ethic with others," said MFBF Executive Vice President Scott Kulbeck. "The fact that this is the fourth year that Montana Farm Bureau members have won this award shows that our members take land stewardship seriously."
The Lannans received $10,000 and a crystal award for being selected. Last year's recipient was Hidden Hollow Hideaway Cattle and Guest Ranch, owned by the Flynn family of Townsend in Broadwater County. The Frenches received the award in 2021 and Miltons in 2020.
Sand County Foundation and American Farmland Trust present the award in Montana with the Montana Department of Natural Resources and Conservation, and the Rangeland Resources Committee.  
# # #
The Montana Leopold Conservation Award is made possible through the generous support of American Farmland Trust, Montana Department of Natural Resources and Conservation, Rangeland Resources Committee, Sand County Foundation, Sibanye-Stillwater, TC Energy, Northwest Farm Credit Services, USDA Natural Resources Conservation Service, C Lazy J Livestock Inc., Ducks Unlimited, Grazing Lands Conservation Initiative, McDonald's, Montana Farm Bureau Federation, Ranchers Stewardship Alliance, Soil and Water Conservation Society, and World Wildlife Fund.
In his influential 1949 book, A Sand County Almanac, Leopold called for an ethical relationship between people and the land they own and manage, which he called "an evolutionary possibility and an ecological necessity."
Sand County Foundation and American Farmland Trust present the Leopold Conservation Award to private landowners in 24 states with a variety of conservation, agricultural and forestry organizations. For more information on the award, visit www.leopoldconservationaward.org.