Montana Farm Bureau applauds Governor Gianforte for signing bills important to agriculture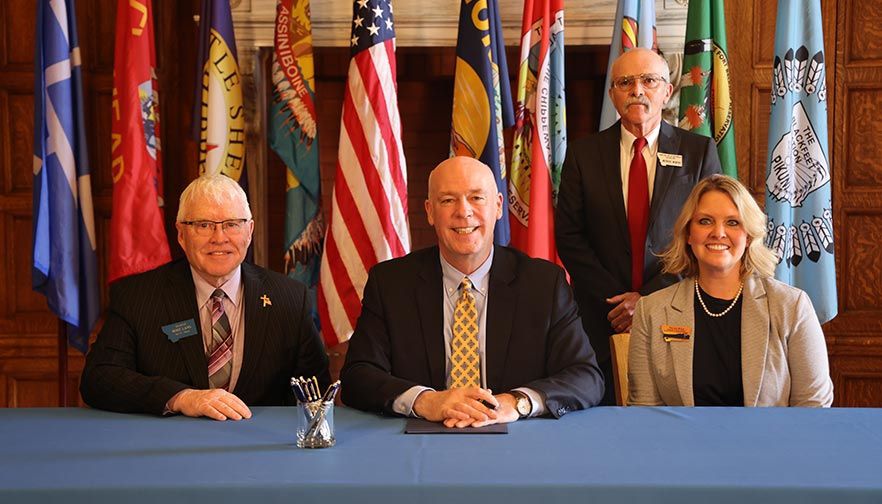 The Montana Farm Bureau is applauding the Montana Legislature for passing, and Governor Gianforte for signing, bills important to agriculture into law. When the 67th Legislature came to a close April 29, many Montana Farm Bureau supported bills had been passed by the Legislature and were on their way to the Governor's desk. The Governor has ten days upon arrival to his desk to either sign, veto, or allow bills to become law without his signature. Wasting no time, he signed three MFBF support bills on the last day, and previous to last day of the Legislative Session: Senate Bill 338 revises civil liberty laws; Senate Bill 307 revises liability limits on lawsuits for irrigation operators and House Bill 302, requires county approval to relocate bison.

"This was a long session, but we are thrilled that Montana Farm Bureau was successful is seeing bills supportive of farmers and ranchers become law. The governor has already signed a number of important bills into law throughout the Session and it was exciting to see him sign a few more in the last week. The Legislature sent quite a few other good bills his way, so we look forward to him signing even more in the coming days," said Montana Farm Bureau Senior Governmental Affairs Director Nicole Rolf. Rolf, along with MFBF State Governmental Affairs Director Rachel Cone, spent the entire session in Helena representing the members of MFBF.

Bills of agriculture interest signed in the last week include, but are not limited to SB 307, SB 338, and HB 302. All of these bills address long standing concerns of farmers and ranchers. SB 338 and SB 307, both sponsored by Senator Mike Lang (R) SD17 protect property owners from undue liability. SB 338 protects landowners and property owners from liability with respect to unwanted trespass¬ers. SB 307 is specific to irrigation liability. The bill clarifies that protections are meant to apply to all irriga¬tion structures, not just ditches, providing all irrigators adequate protection from liability already provided in law. HB 302 sponsored by Rep. Joshua Kassmier (R), HD 27, requires county approval to relocate bison and requires wild bison being released into a county to meet certain conditions and receive approval from the board of county commissioners.

"It's was an honor to be sitting with Governor Gianforte when he signed these bills into law," said Rolf. She explained "Bills like SB 338 and 307 give farmers, ranchers, and other business owners, necessary certainty that they will be able to continue operating in the safe and protective ways they already do. HB 302 adds a layer of protection that a new, unwanted species will not be introduced onto their lands. For over ten years now, our members have been very concerned about public entities trying to force wild bison onto the landscape and have been adamantly opposed to such an action. The addition of wild bison onto the range threatens ranchers by adding a large species that will compete for scarce resources like water and grass, damaging crops, fences and other property, and running the risk of spreading disease. HB 302 gives county commissioners, the elected officials closest to the citizens, a say in whether or not wild bison can be established in their communities. With the signing of these three bills, we are pleased that ranchers and farmers now have more certainty that their property rights will be protected," stated Rolf.

"We appreciate the persistence and leadership of Senator Lang and Representative Kassmier on these and many other important issues this Session. We also thank the Montana Chamber of Commerce, Montana Water Resources Association and other agriculture and business organizations for their efforts to get these bills across the finish line. Of course, we especially want to thank the governor for helping us put a period on the end of this very long wild bison sentence," Rolf concluded.



Want more news on this topic? Farm Bureau members may subscribe for a free email news service, featuring the farm and rural topics that interest them most!