Montana Farm Bureau Young Farmer and Rancher competes at national ag event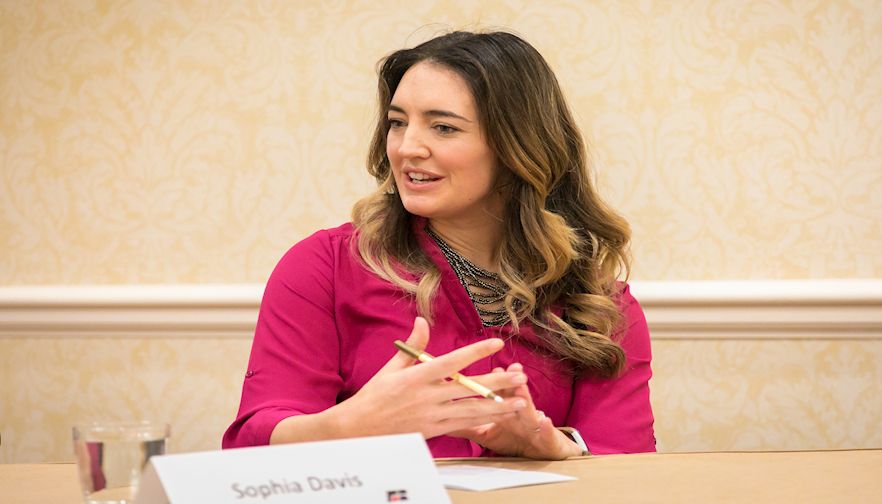 Montana Farm Bureau Discussion Meet winner Sophi Davis competed in two rounds of the national YF&R during the American Farm Bureau Federation Discussion Meet January 6 at the Opryland Hotel and Resort in Nashville. The Discussion Meet is meant to resemble a committee meeting with an end goal of determining possible solutions to a question. The first question: With a growing demand for U.S. farm products abroad, how can agriculture overcome public skepticism of foreign trade to negotiate new trade agreements and open new world markets?
"The best way to deal with a population that is skeptical is take a look at why they are skeptical," Davis said. "Is it because of protectionism? Is it political? I think the best way to address our constituents is explain to them it's hitting them in the pocket. In addition, we need to divide agricultural trade from the rest of the trade, such as automotive, is not the same."
The Springdale rancher added that a good solution to educate the consumers about agricultural trade is by using social media to put a face on the farmer and have those farmers talk about how valuable trade it to them.
In the second round, the question was: How can Farm Bureau help members with increasing legal and regulatory obstacles so they can focus on farming and ranching?
"Farmers and ranchers deal with an unbelievable amount of regulations that prevent them from producing food and fiber," Davis said. "When you see the EPA is fighting back against Farm Bureau, it shows the impact Farm Bureau has. Even at the county level, our Farm Bureau has worked with a local property owner to fight back against government agencies that have gone rogue. Farm Bureau is leading the way. I think it would be great if Farm Bureau could have a membership a benefit that would provide legal insurance to help farmers and ranchers, giving them access to different legal entities."
Davis prepared for the competition by having weekly Facebook Live posts where she covered a Discussion Meet question, provided her thoughts and solutions, and then engaged with others on social media.
"For the Facebook Live post on trade, which had 1500 views, I had several people afterwards who wanted to know more about where U.S. products are shipped to," noted Davis. "The posts allowed me to interact with other consumers and talk to them more about agriculture."
Davis talked about the multi-million-dollar Montana beef deal with China. "You need to tell people that we're not selling our tenderloin. We are sending China cuts that Americans don't value as much. A growing middle class in China is wanting those products. We need to look at other countries that need our products such as India with 1.3 billion people. Are we accessing them for our Montana pea market?"
Davis said expanding her knowledge about agricultural issues was a valuable part of being involved in the competition on both the state and national levels. "In addition, at the competition in Nashville, it was a great opportunity to visit with other young farmers and ranchers from across the country, and learn more about what they do on in agriculture. This was a wonderful experience."
Want more news on this topic? Farm Bureau members may subscribe for a free email news service, featuring the farm and rural topics that interest them most!