Milton Ranch combines grass management, cattle and community prosperity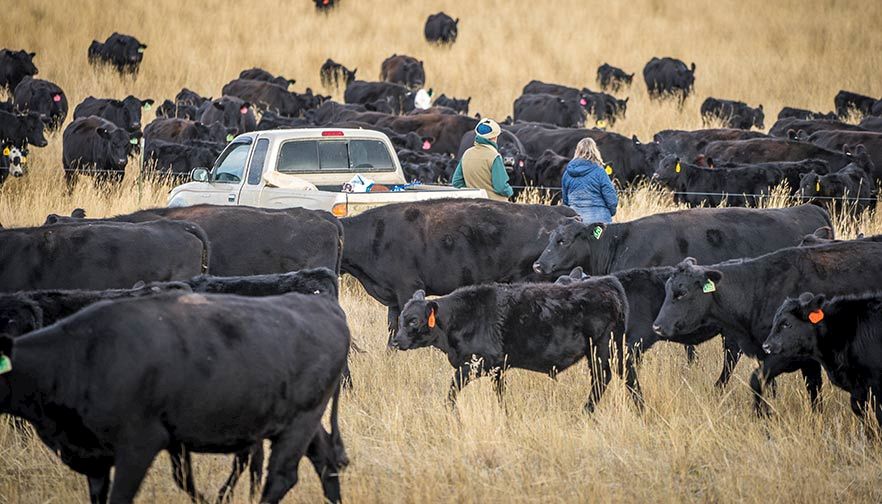 Ranching takes creativity, determination, resilience and a true love of the land. Ranchers read a variety of publications, attend educational events, get tips from old-timers and visit with other ranchers---all to continually improve the health of cattle as well as the health of the grass and soil.
One rancher who continually asks questions and keeps improving his cattle and range is Bill Milton. Bill, along with his wife, Dana, received the first Montana Leopold Award during the 2019 Montana Farm Bureau Convention in Billings. The members of the Montana Farm Bureau raise cattle in the rolling grasslands and sagebrush hills north of the Musselshell River in Eastern Montana.
Meeting with them in their rambling farmhouse east of Roundup, at first glance they might not look like stereotypical "ranchers." Bill wears a sweatshirt reading, "California – Berkeley" and Dana is an avid gardener and baker.
However, after a conversation, one realizes they have a deep commitment to their cattle, other ranchers, their land and their community.
Bill was raised on a ranch his father owned east of Wolf Creek near Holter Lake (now the Beartooth Game Ranch) and always had an interest in plants and agriculture. In addition, he spent time with his mother who lived in California which resulted in Bill attending high school in the Golden State where he met Dana. This intriguing young woman was interested in plants, birds and the world around her, loved her garden and weaving, so she and Bill quickly realized they were kindred souls.
Bill studied wildlife conservation at the University of California – Berkeley under professor Starker Leopold, the son of renowned conservationist Aldo Leopold. When they graduated from college, Bill and Dana decided to move back to Bill's roots, and have been ranching together in Montana since 1979. Once in Montana, hoping to hone their range management skills, they attended the Savory Holistic Management Workshop and helped form a group to work on the holistic planning process.
The Savory Grazing System is described as: "Holistic Planned Grazing is a planning process for dealing simply with the great complexity livestock managers face daily in integrating livestock production with crop, wildlife and forest production while working to ensure continued land regeneration, animal health and welfare, and profitability. Holistic Planned Grazing helps ensure that livestock are in the right place, at the right time, and with the right behavior."
"We called it Ranching Made Difficult," Bill chuckled. "We tried many different things and made a lot of mistakes. I was a lot 'greener' than my neighbors; I came of age during the creation of Earth Day, and although we had that ranch in Wolf Creek, from living in the San Francisco Bay Area with my mom, I especially appreciated environmental issues back then. However, I also felt that ranching done well was environmentally friendly."
The Miltons expanded their current ranch in 2005 and continued to experiment with new methods of ranching. They readily admit that along with education, they used trial and error to develop the best way to manage their cattle, soil and grass while contributing to their community.
"Most ranchers try to do the best they can and be profitable," Bill noted. "There are many external pressures including all kinds of weather, so we try our best to be resilient ranchers and mitigate risk. Taking care of grass is a risk management tool and we try to optimize the moisture we do get with building more surface cover through grazing management and improved livestock genetics."
Dana added that one can be the best rancher, yet if your community struggles, you're vulnerable. "Having a successful ranch doesn't happen in a void; you need a healthy rural community. You want everyone around you to do well."
The Miltons expressed concern that family ranching and farming is under great stress, and working collaboratively with neighbors and community can be an important response to these stress challenges. "Taking care of the grass and environment, prosperity and rural communities is all part of one formula. The reason a group like the American Prairie Reserve is coming to central Montana is because it's one of the remaining intact grasslands in the world. Why is it that way? Because of the role ranchers have played in taking care of grass, which these groups sometimes don't seem to fully appreciate."
The Miltons credit the success of their management approach with ongoing adaptation and flexibility. They run on 15,000 acres at their Montana ranch, with their yearlings pastured in Wyoming. About four years ago, they realized they needed to increase their cattle numbers to reduce overhead costs. They needed to work on cattle genetics that require lower inputs and realized that nurturing effective partnerships with their neighbors was key. They also realized it was necessary not only to improve grazing, but to market their cattle more successfully.
For their grazing improvement ideas, they visited with a Bureau of Land Management range conservationist in Billings who realized what the Miltons wanted to do, all pointing to better management of the range, wildlife and cattle. The Miltons did an extensive water pipeline work (still ongoing) and instituted their grazing management system.
"This is a cow-calf ranch, so our calves are born here and weaned in the fall," said Bill. "We found we could market those weaned calves by teaming up with Country Natural Beef, which is a rancher co-op that sells beef—they market 60,000 animals. We own the calves from birth through processing."
To work with CNB, the Miltons had to participate in the Global Animal Program (GAP) which added to the marketing benefit. GAP sets a "meaningful animal welfare labeling program, verified by audits, in order to influence the food industry, raise consumer expectations and create a sustainable environment." Bill noted that the program is probably already practiced by most ranchers in Montana, and it's an additional way to add value to your beef.
Dana noted that she and Bill have always considered stockmanship a big deal and are very much into reducing stress in cattle. "With the help of an apprentice, we've been keeping 500 head of cows on an average of 25-36 acres each day, with moving to new grass part of the daily routine. This year, we came up with the idea to lower stress by not tagging our calves so we're not out there trying to tag a calf and stirring up the herd. It's resulted in a calm herd. We look at them every day and make sure there is water. They know what the program is and are ready to move on to fresh feed as soon as we open the wire gate. It really has resulted in relaxed cattle."
Bill said that the last thing he'd say to another rancher is, "You shouldn't tag newborns. For us, it has been less stressful on the cattle and the people. We will tag and castrate at branding, but we certainly realize every rancher's situation is unique."
Their grazing system uses four units of five sections with calving beginning in late April. Those units will be used in May and June during the calving season. Grass on the ranch will only be grazed generally in April, May and June once every four years.
"What we're doing here accelerates pasture improvement using cattle to improve soil and cover. Right now, we are working to document that good grazing can keep carbon in the soil," noted Bill. "Managing grazing and the soil improves the diversity and catches the carbon. We're doing more soil samples to prove that."
There is a trust factor between a rancher and the cattle. Using this grazing system, Bill explained that cattle trust you will show up and open the gate to fresh feed; you trust they will stay in their new pasture and work well for you.
Cows actually help riparian areas by grazing them at essential times. "When you graze riparian areas correctly you encourage healthy native wetland plants and minimize invasive plants like Canadian thistle. At times we graze riparian areas hard in July to improve cattle performance or upcoming breeding, then move the cattle onto upland feed; this results in the cattle being in good breeding condition and the riparian areas benefit, as well."
Bill summed up his experience in ranching, "We're in a rapidly changing world and one needs to adapt by using collaboration, imagination and adaptation. For ranchers to survive you need to have trust with people. We need to show that we are protecting the habitat but can also be profitable and bring prosperity to our local communities."
The Leopold Conservation Award
Bill and Dana Milton were presented with the Leopold Conservation Award during the Montana Farm Bureau Annual Convention in November 2019. This was the first time the award had been given in Montana. The Leopold Award was presented by the Sand County Foundation with the Governor Steve Bullock's office, Montana Department of Agriculture, the Montana Department of Natural Resources and Conservation's Rangeland Resources Committee. The award is presented to a private landowner who exemplifies the spirit of this land ethic – an individual or family dedicated to leaving their land better than how they found it.
In his Sand County Almanac, Aldo Leopold called for an ethical relationship between people and the land they own and manage. The land ethic is alive and well today in the thousands of American farmers, ranchers and foresters who do well by their land and do well for their land.
Leopold Conservation Awards recognize extraordinary achievement in voluntary conservation, inspire landowners through their example and help the general public understand the vital role private landowners can and do play in conservation success.
For more information visit sandcountyfoundation.org.
Want more news on this topic? Farm Bureau members may subscribe for a free email news service, featuring the farm and rural topics that interest them most!