Meet New District 7 Director Joy DePuydt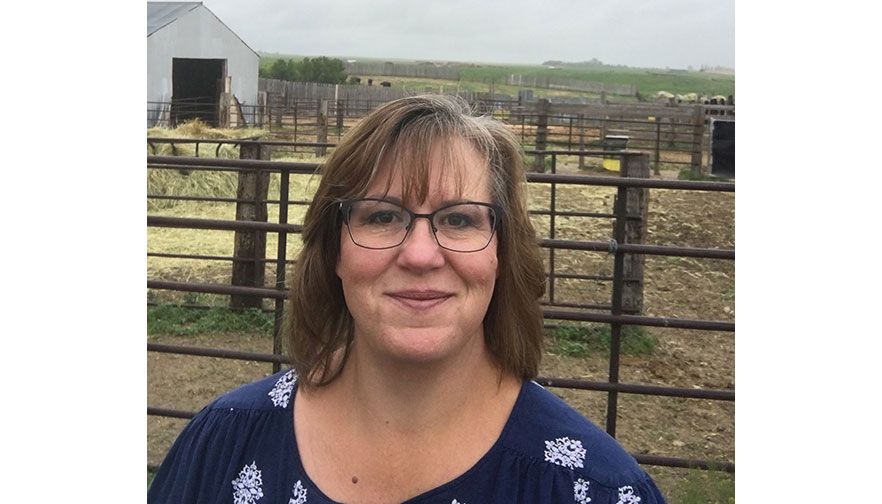 Joy DePuydt brings an interesting dynamic to her role as new District 7 Director of the Montana Farm Bureau. Although she lived and helped on her husband's family ranch in Saco since 1991, Joy served as a nurse in the Emergency, obstetrics and medical-surgical units as well as becoming an area coordinator and supervisor at Francis Mahon Hospital in Glasgow. Her career there spanned 30 years.

Although she wasn't raised on a farm or ranch, her father had an equipment business in Chester, Montana and her mother worked in a bank. Since most of her friends hailed from ag families, however, she spent plenty of time learning about tilling fields and raising cows by osmosis. She met her husband, Tom, while they were both attending Northern Montana College in Havre.
Once they both graduated, they briefly lived in Billings, but Tom had always wanted to get back to the farm. When he got a job offer in Glasgow, which would put him significantly closer to the family place, he accepted, and the young couple launched their careers. Four years after their move to Glasgow, in 1991, the opportunity surfaced to move back to the family farm. They jumped at the chance, although Joy kept her job at the hospital, commuting from Saco.
Although she had varying roles including a role as a supervisor, she said her favorite part of nursing "was patient care and helping people learn how to manage their care at home so they could continue the healing process. Making connections, gaining trust, caring for and seeing people get better was rewarding."
In January 2019, Joy retired when Tom said he needed a helper, his wife was able to start assisting him more on the farm. "I took over the bookkeeping and organized the office and helped organize the shop. Now, I help wherever I'm needed whether its moving cows, cattle records, creating spread sheets, branding, preg testing, moving equipment, cooking for a crew, or running for parts. In the summer, I'm the official 'groundskeeper. Let's say I am not bored."
Tom served on the Montana Farm Bureau board from 2013-2019 and when he termed out, there was a need for someone to fill his shoes. Joy had listened to well-known motivational speaker and third generation logger Bruce Vincent and Dr. Gary Brester, ag economics professor, Montana State University, during Farm Bureau conventions and conferences, and their stories started a call to action in her mind.
"Both of those men talked about answering the call to help agriculture and rural communities, the fact that the world is run by those who show up," noted Joy. "I looked at Tom as he was going off the board and said, 'I'm going to have to do this.'"
As a new board member, Joy applied for and was accepted into the Montana Farm Bureau ACE Program. "I've learned even more about leadership and so many good ways I can promote agriculture and our organization. I'm currently trying to learn about the many issues pertinent to agriculture," Joy said. "I want to be a positive voice."
Joy believes nursing and agriculture have a common thread—problem solving. "You find out what the problem is and then move forward to have a positive outcome. It's important to listen to people. Unless you ask the right questions, you cannot glean information and help—it's the same in agriculture. We are a society that assumes we know what the problems are without actually listening and hearing."
In her role as District Director, Joy would like to see her district work toward growing membership and helping people understand about Farm Bureau history. Our history, or legacy, is so rich. The people from the past identified problems and found ways to solve them that positively affected everyone involved. I think that legacy should be shared with everyone, so they want to become engaged and are inspired to work on projects that positively affect our communities and promotes agriculture.
The new district director expresses concern that although the United States has a plentiful, safe food supply, it's being challenged with misinformation in the media. "Although research is being done, it can be skewed to whatever your agenda is. We have a lot of work to do for the public to understand who farmers and ranchers are and what we really do. So many times, farmers and ranchers don't share what we do because we are immersed in our livelihood, but we need to be sharing the great things we do every day to supply food to the world and improve our environment. Keep in mind though it is important for us to listen to peoples' concerns and try to find that common ground to move forward."
Want more news on this topic? Farm Bureau members may subscribe for a free email news service, featuring the farm and rural topics that interest them most!