MFBF to kick off Centennial celebration at annual convention in Billings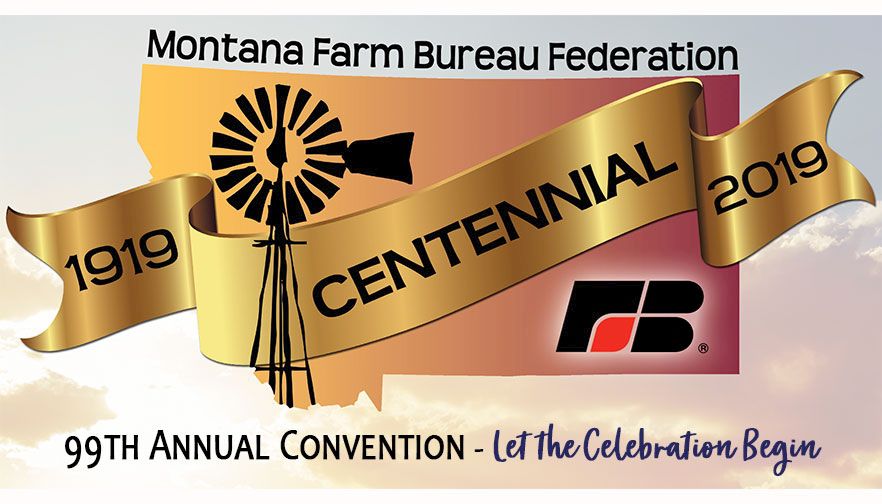 The Montana Farm Bureau will start the year-long celebration of its Centennial during the 99th MFBF Annual Convention November 7-10 at the Northern and DoubleTree Hotels in downtown Billings. The celebration kicks off Wednesday, November 7 with an evening reception in the trade show.
This year's workshop topics include issues of concern farmers and ranchers have had for decades including livestock health, tax changes, ag safety and a farm bill update. More modern concerns will also be addressed including advocating for agriculture in a marketplace of distrust and conservation easements.
Keynote speakers include Tim Williams, Department of the Interior, who will address Century Club members in a special Thursday morning breakfast. Thursday morning's motivational speaker is Dr. Gary Moore, retired professor, North Carolina University, with his presentation "Searching for the Wizard of Oz," and will explain how to continue to be relevant and meet the challenges of the future. Thursday's lunch speaker, Donna Moenning, Center for Food Integrity, will talk about the dangerous disconnect between farmers and consumers and why finding common ground is important. Friday lunch speaker, Darla Tyler-McSherry, will assist us in how to have candid and compassionate conversations about suicide within the farm and ranch community.
Friday evening is the MFBF Awards Banquet recognizing county Farm Bureaus and other members for their hard work during the year. The evening's entertainment should have everyone laughing as stand-up comedian Tim the Dairy Farmer shares his humor about every day farm life.
Other events include the MFBF board elections, committee meetings, the Trade Show, the MFBF Young Farmer and Rancher Discussion Meet and the venerable Resolutions Session where voting delegates from 30 county Farm Bureaus across the state meet to discuss and vote on what will become MFBF Policy for 2019.
"There has never been a better time to be a Farm Bureau member and never a better time to attend our convention as we begin the celebration of our Centennial," noted MFBF President Hans McPherson. "Our workshops and speakers will provide new insights into farming, ranching and rural life with plenty of time to network with other members. We look forward to seeing everyone in Billings."