MFBF members experience presidential speech, networking and education during national convention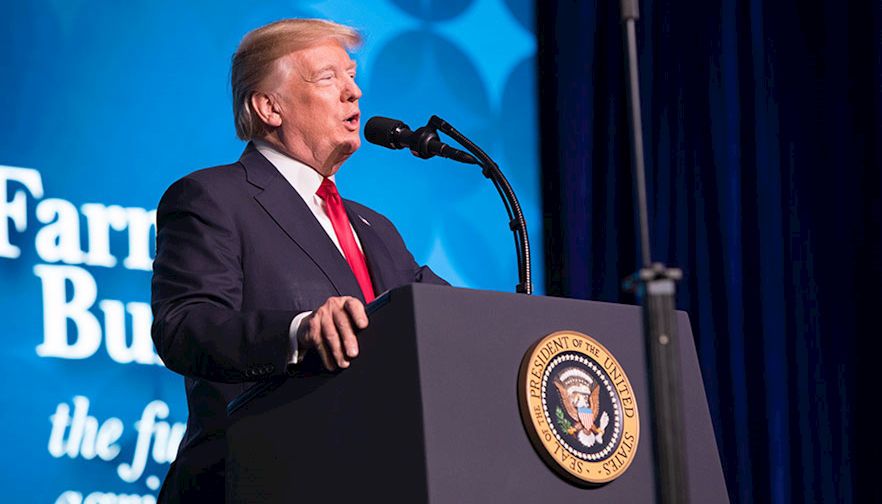 Standing in line for hours to hear President Donald Trump was worth it for thirty Montana Farm Bureau members attending the American Farm Bureau Convention in Nashville. President Trump, who addressed the crowd of more than 7400 touched on issues of particular importance to agriculturists such as regulations, labor and trade, and especially decrying the costs of excessive regulation and tallying the rules his administration has moved to eliminate. He addressed the controversy of the North American Free Trade Agreement and said he is working to get a better deal for farmers, ranchers and manufacturers. He stated that he will ensure the 2018 farm bill is passed on time. While on stage the president signed two executive orders to expand, fund and streamline areas of broadband service to rural areas.
You can view President Trump's address to AFBF by clicking this link.
"Seeing the president of the United States was worth the whole trip," noted Montana Farm Bureau Women's Leadership Committee Chair Gretchen Schubert, a Huntley rancher. "What really resonated is the fact that he is doing away with 22 regulations for every one new one which will make farming and ranching so much easier. The fact there is now comprehensive tax reform, including a change in the inheritance tax, is so important to all of us in agriculture."
Ken Johnson, a wheat farmer from Conrad, appreciated that Trump "knew his audience. It was great to see he acknowledged that farmers and ranchers play a very important part in the economy. He briefly mentioned trade, including NAFTA, and said they were working hard to make all trade deals better."
"It was humbling, regardless of political affiliation, to have a president take time to visit with ag producers from across the country," said MFBF Young Farmer and Rancher Committee Chair Gil Gasper from Circle. "Over the past 25 years we have had Republican and Democratic presidents and none of them came to speak to us. Sometimes being in Montana on the other side of the country from Washington, you feel so removed from politics. That we saw the president firsthand was very impressive. It was refreshing to have President Trump address us and I will remember it forever."
Other highlights
Delegate Session: Seeing the Farm Bureau grassroots at work is rewarding to MFBF President Hans McPherson. "Policy made at the county level can become Montana Farm Bureau policy and some of that even advances to the national level with American Farm Bureau. This time, a couple of those issues are the importance of our Montana Beef Council and keeping those check-off dollars in Montana. Another issue for all of the western states is our wildfires. There is the need for the Forest Service and Bureau of Land Management to take a more active role at the beginning of a fire, not after it's out of control. What the American Farm Bureau does is bring all the voices of each state together at our delegate session."
Networking: Despite being Montana Farm Bureau members for many years, this was the first time Virgil and Judy Henke of Townsend attended the national event. "It was worthwhile because it was a first and we didn't know what to expect. It was a learning experience to see all the different workshops that were offered from estate planning to a livestock outlook to public policy and advocacy," Virgil Henke said. "It was exciting to see how many farmers and ranchers attend. We had good conversations with several people, and it was interesting to hear what other people do. Farmers in upstate New York are different from a farmer in the Deep South. Everyone was happy to visit and share information about their farms and ranches. I would certainly recommend going to this convention to our members."
Workshops: MFBF YF&R Chair Gil Gasper said a workshop he found valuable was on setting up a retail business. "It was geared towards people trying to vertically integrate their operation and make it more diverse. We heard from people who sell hogs directly to the public an one who started a store to sell farm goods. They talked about challenges of bringing the consumer to your business," said Gasper who recently started a meat processing business. "Another theme that came out of the workshop was how farmers in certain areas have to deal with urbanization. They talked about how to work around issues of encroaching development, how to connect with those people moving in, and how to make sure that farm property can remain in the family. One family had an 8th generation farm from the early 1800s and were trying find ways to keep the farm in the family. We don't have to deal with that so much in Montana, so I found it very interesting."
Tours: Tom and Joy DePuydt took advantage of tours offered and enjoyed a visit to The Hermitage, home of President Andrew Jackson (1829-1837), where they learned about the 7th president and agriculture of the times. "We learned that although he only had a sixth-grade education, he taught himself law under the tutelage of two lawyers and passed the exam to practice law. Most of his wealth was paid for by land, which was valued at 50-cents an acre. His plantation grew cotton and they still grown cotton there today."
The American Farm Bureau Convention runs January 5-10 in Nashville, Tenn.
Want more news on this topic? Farm Bureau members may subscribe for a free email news service, featuring the farm and rural topics that interest them most!