MFBF Summer Conference shows advanced technology continues to play a growing role in agriculture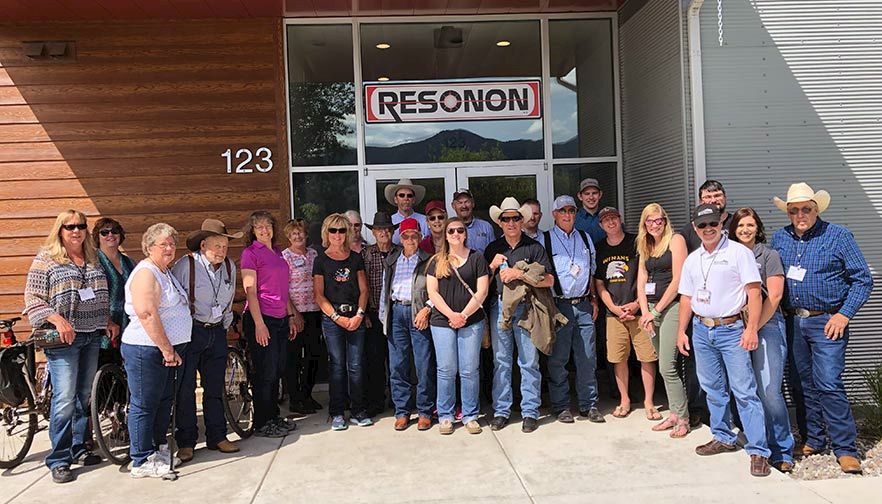 The use of technology in agricultural production was a key message at the Montana Farm Bureau Summer Conference June 11-13 in Bozeman. Whether speakers in workshops or tours were discussing technology in increasing yields or making agricultural practices easier, technology holds the answers.

Keynote speaker Dr. Gary Brester, professor emeritus, MSU Department of Agricultural Economics, covered "Agriculture, Technology and Institutions: 100 Years of Service to Society" which tied in with MFBF celebrating its centennial year.
Brester explained how technology over the past 100 years has advanced food production even as numbers of farmers and ranchers has steadily declined. "Continuing to produce food in an efficient manner is more critical than ever. The world population by 2050 will increase by 34 percent to 9.1 billion. We will need to produce 70 percent more food by 2050. Understand that arable land will only increase five percent; that's a 300-million increase in least developed countries and a decrease of 125 million acres in developed countries as productive land becomes used for other purposes. This means the increase in food production will need to come not from an increase in acreages used to grow food but from increased productivity."
The professor cited genetically engineered crops, whether using gene modification or editing, can increase yields while providing many benefits including producing wheat with less gluten, adding vitamins and developing varieties requiring less fungicide and herbicide—all with no negative human health impacts.
During the "Effective Use in Technology in Livestock Production" workshop, Smittie Smith, RanchHacks, discussed using drones with thermal imaging to check the level of water in stock tanks, look for cows and move cattle.
"Using a drone is more effective and cheaper than using a plane to find cattle, especially in timbered areas. Thermal imaging can easily locate cows hiding in the trees," Smith noted. "The technology is still developing, but they are working on drones with the capability to carry and spray herbicides on inaccessible weed patches in remote areas. If a person rides his pasture and spots a patch, he will be able to take a photo with a cell phone, download that photo, get a coordinate from Google maps and send a drone out to spray it. Information can be stored on the Cloud and accessed through your cell phone or tablet."
The only catch? When Smith asked ranchers about how they used technology, the response was they would love to use more technology, but need increased broadband capacity/cell service to be able to access the tools.
One tour stop was Resonon, a small company in Bozeman that manufactures "complete systems for labs, outdoor use and airborne remote sensing application as well as custom hyperspectral vision systems." Hyperspectral imaging is related to the study of plants growing on the surface of the Earth with agriculture the most studied topic. During the tour members were able watch a computer screen as the attached hyperspectral camera detected dead wood in a patch of trees.
"It was fascinating to learn that the image technology of Resonon can identify individual weeds and locate nutrient needs in a field," said Ken Johnson, a Conrad wheat farmer. "While not yet available except for research, this information from drone images or real-time on farm equipment will greatly reduce fertilizer and pesticide use. By applying those precisely where needed, it will help to make our farms more sustainable and improve the environment."
Want more news on this topic? Farm Bureau members may subscribe for a free email news service, featuring the farm and rural topics that interest them most!