Japanese Flour Millers Visit Bandel Farm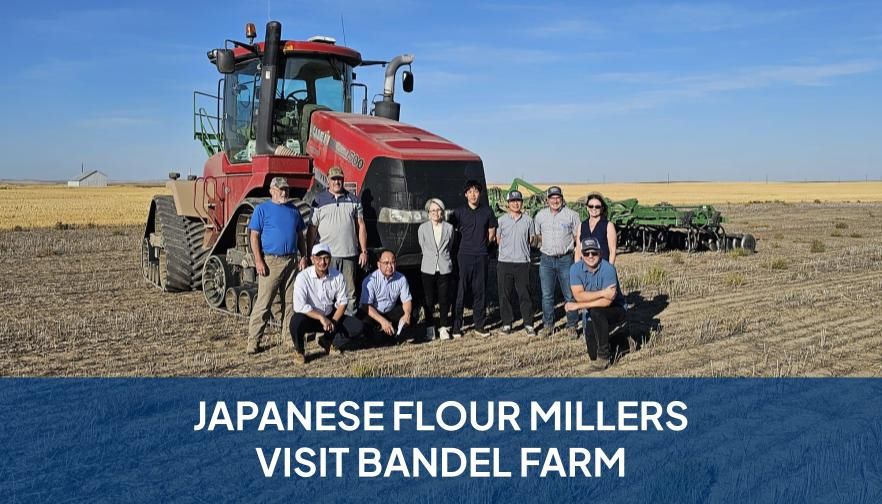 Montana Farm Bureau member Ed Bandel and his son, Jess, were thrilled to welcome representatives from the Japanese Milling Association to their small grains farm in Floweree, Mont. The visitors were part of a delegation the U.S. Wheat Associates invited last month to further trade relationships with Montana wheat farmers. Not only did the group visit Bandel's farm, but they also toured the Montana State Grain Lab and CHS Big Sky.
When the group alighted from the bus at the Bandel's, they assembled in the shop, asking questions regarding this year's grain quality and yields.
"They were curious about the quality of our grains because they need high-quality wheat for milling," Ed said. "Montana wheat farmers are very consistent with the consistency of the wheat, and the Japanese like that. While we explained what we do, they took a lot of notes."
Since the Bandels were seeding winter wheat during the visit, the five guests had the opportunity to ride in the sprayer with Ed and in the air seeder with Jess.
"We had saved some land just outside our shop so it would be easy for them to get out there to see how we seed and spray. They were very impressed with the size of the equipment on our farm because they told us that everything is much smaller on their farms," noted Ed, who serves as MFBF District 8 Director. "They were curious about our sprayer –that impressed them. Although we generally run the Case IH red equipment, our air seeder is John Deere green. They said they like John Deere equipment."
A few Japanese spoke English well; for those who did not, a translator from U.S. Wheat kept them informed.
"I love sharing and showing people what farmers in this area do," Ed said. "It's fantastic that we could get them in the field to watch how we plant our wheat. Since they make bread from Montana wheat, it was valuable that they could first experience seeding the planting at our farm and tour the grain lab and CHS elevator at Fort Benton. They received a broad view of the wheat industry in Montana."
"Although there were language barriers between translators and a couple of the participants knowing some English, the conversation went reasonably well," Jess said. "When they saw our red equipment, they were swift to ask why we don't use green," Jess chucked. "I pointed out I pulled green with a red tractor. They were fascinated with the tractor's electronics and the fact that it showed how much fertilizer and seed needed to be planted, and the autosteer intrigued them. It was great letting them have that experience."
Jess, who is Chouteau County Farm Bureau president, said he was happy to host the milling representatives because he is proud of what he does. "We do such a fine job in Montana of making food that we should be proud to show it off to our customers and make them happy they are buying from us. Having a clean tractor to sit in and seeing a clean field makes them happy to buy grain from us. As big as this world is, success still comes down to personal relationships. It was wonderful that they could see the dirt where it all starts."
Jess praised the U.S. Wheat Associates, which arranged the visits from international trade teams thanks to the wheat checkoff. He hopes to see more future visits to the Bandel farm.
"The purpose of this visit was to celebrate our strong relationship with Japan," Sam Anderson, MWBC market development director, said. "Japan is the third largest importer of U.S. spring and winter wheat, and about 75 percent of Montana wheat is sold to the Pacific Rim. Japan is one of our very strongest partners."
The Montana Wheat & Barley Committee has entertained 13 trade teams since February, with two more planned for October.
Want more news on this topic? Farm Bureau members may subscribe for a free email news service, featuring the farm and rural topics that interest them most!