Farm Bureau members in Washington, D.C. meet with leaders, agencies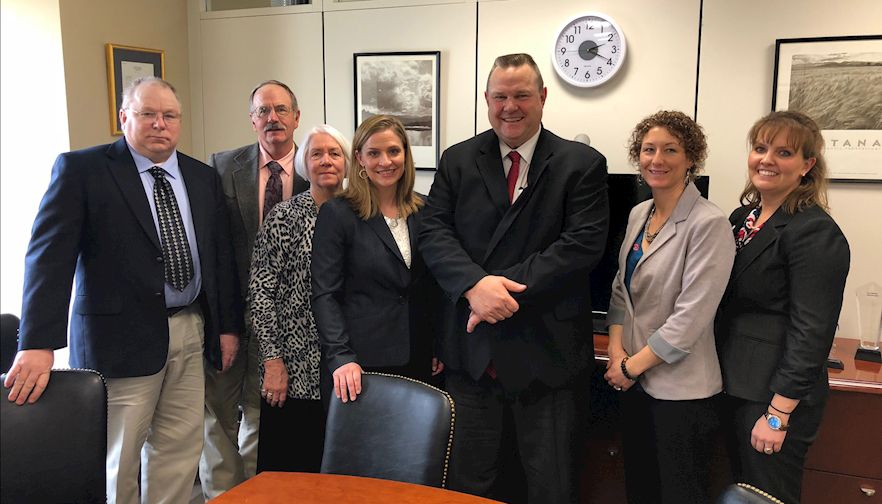 Five Montana Farm Bureau members traveled to Washington, D.C. in early March not only to attend the American Farm Bureau Issues Advisory Committee meetings but to meet Montana's Congressional Delegation and visit two agencies that have a strong effect on ag policy—the U.S. Trade Representative's office (USTR) and the Department of the Interior (DOI). Members included MFBF Director of National Affairs Nicole Rolf; Tonya Liles, a cattle rancher from Terry; Megan Mattson Hedges, a grain farmer from Chester; Chuck Rein, a rancher from Big Timber; and Don Steinbeisser, Jr., a diversified farmer from Sidney.
Agency Meetings
"We received an update from Sharon Bomer Lauritsen, Assistant U.S. Trade Representative, Ag Affairs and Roger Wentzel, Deputy Assistant U.S. Trade Representative on the TransPacific Partnership and the fact that we might try to get back into those negotiations," Hedges explained. "They have been doing a lot of work on moving American grain to Canada, and working toward ensuring grain is graded on the same level in Canada and the U.S."
The meeting with Tim Williams at the Department of the Interior provided insight into the department's reorganization and allowed the Farm Bureau members to voice their thoughts.
"Mr. Williams explained the reason for the reorganization at the Department of the Interior, which made sense," said Steinbeisser. "They want to make it simple for people trying to contact Bureau of Land Management about a certain issue to easily locate the person responsible for that issue. In addition, there are some groups saying Secretary Zinke is selling off land. All he wants to do is give more decision-making to the states."
Rein said, "We addressed our concerns about brucellosis in bison in Yellowstone Park and reiterated what a problem it is. We also talked about the release of Wilderness Study Areas which were not designed to be in limbo for so many years."
Congressional Delegation
Visits with Senator Jon Tester, Senator Steve Daines and Representative Greg Gianforte covered concerns voiced in the committee meetings; getting a workable Hours of Service and reasonable Electronic Logging Devices for agriculture; defeating the rules for air quality emissions reporting in cattle; rural development language in the farm bill; increasing broadband and internet access to rural communities; and sensible management of endangered species.
Rep. Gianforte personally gave the group a VIP Tour with an evening view of the Capitol, including the then-quiet Senate and House Chambers, which was very well received by the Montana Farm Bureau visitors.
Liles found the trip to extremely worthwhile. "It made me realize how important it is to be an advocate for what we are producing and ag in general," the rancher said. "You don't realize how essential it is to be involved until you get outside of your bubble and realize you can actually make a difference. It's not that hard to explain your issues to our Congressional delegation and ask them to support it. The leadership aspect of making a trip to Washington, D.C. really opens your eyes to what truly can be done."
Want more news on this topic? Farm Bureau members may subscribe for a free email news service, featuring the farm and rural topics that interest them most!