FUSION Conference offers networking, leadership training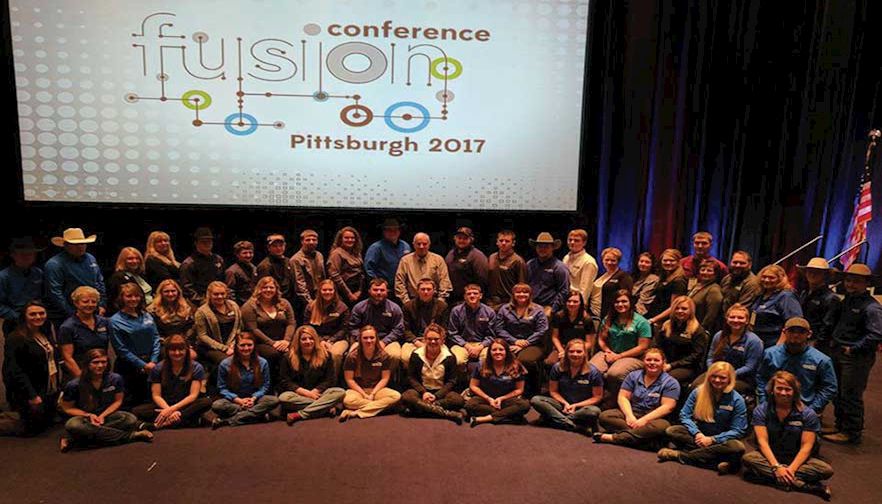 Montana Farm Bureau brought 55 people to the American Farm Bureau FUSION Conference February 10-13, 2017, in Pittsburgh, PA. The FUSION Conference is a bi-annual gathering bringing together members of Collegiate Farm Bureaus, along with Young Farmer & Rancher, Women's Leadership and Promotion & Education Committees to develop leadership skills. Only Pennsylvania, Indiana and North Carolina had more members from the 36 states attending. MFBF not only had WLC and P&E members, but collegiate groups from Montana State University-Bozeman, Miles Community College and University of Montana-Western.
The event included a number of networking lunches; workshops weren't organized by committee topics but by subjects including: advocacy, business, collegiate, communication, education, leadership, rural development and technology. Sessions featured speakers or panels as well as hands-on training.
One of the 55 MFBF members attending was Gretchen Schubert, who serves as the Montana Women's Leadership Committee Chair. Schubert noted although collegiate Farm Bureau members outnumbered other attendees, the networking lunches provided a good time to meet new people of all ages.
"At the first luncheon, each table had a sign with a commodity, so you sat at the table depicting the commodity you raise. Commodities varied for everything from rice to beef cattle, gardening to hydroponics," Schubert said. "It was interesting to hear how farmers on the east coast with small herds of cattle have the capability of putting them in the barn during inclement weather. What amazed me was a couple from Nevada with irrigated hay ground who got 10 cuttings of alfalfa every year."
Schubert's favorite workshop was on women in leadership roles. "Our speaker explained that out of the CEOS of the Fortune 500 companies, only 22 are women. As women, we need to broaden the scope of what we can achieve and strongly support the women who want to advance in leadership roles in business and politics."
The Huntley rancher said the closing speaker, Dr. Charles Petty, had an inspirational message: "Be the best person you can. Be kind and do what you think is right. American Farm Bureau President Zippy Duvall had a similar message at the closing session, saying no matter how busy you are, take time for friends, neighbors and being involved."
Jennifer Bergin, who sits on the Montana Farm Bureau Board of Directors and on the AFBF and MFBF and P&E Committees, plans to propose adapting Pennsylvania Farm Bureau's educational program in Montana. "They have a traveling farm fair with stations that can be set up in classrooms, at fairs and at school events. We received the whole workbook on re-creating this in our home states."
Bergin, who has completed two-years in the AFBF Partners in Advocacy Leadership program (PAL), served on a panel about using social media to tell your story. "I told them even if you're in a rural area, you don't have to be lonely. Share your photos and videos. We made a video at our ranch of corn chopping that we've shared on social media. Videos are a great way to educate non-farm consumers about agriculture."
Yellowstone County Farm Bureau YF&R Chair Katie Kratky explained her leadership role in the county Farm Bureau was a catalyst for attending. "It gave me the opportunity to visit with collegiate Farm Bureau members from Montana, and I was able to talk to young farmers and ranchers from Oklahoma and Minnesota. We talked about the regional differences in farming and ranching. In addition, I attended excellent workshops on business, ag marketing and advocacy."
Jon Bouma, owner of a crop services business in Stevensville, attended the event for the first time with his wife, Johanna. "It was set up in a way that created interaction with other people. We liked the diversity of the breakout sessions and the quality of speakers," Bouma said. "One workshop was geared toward increasing your use of social media. One of the YF&R Chairs from Arizona made an impressive three-minute video which provided insight into his family and farm. It's inspired me to plan a video regarding our place."
The young agriculturalist discovered other people at the conference had strong stands on religion and family. "When you farm and ranch, you really need that support from those two institutions, or you're not going to make it."
The majority of the MFBF delegation were Collegiate YF&R students. Allie Nelson, who hails from Cascade County and is an Ag Communications student at MSU, said FUSION was "the best collegiate conference I've attended. There were great networking opportunities. My favorite workshop was on career success where we had the opportunity to ask questions of CEOs and other representatives from larger employers. Their advice? Ask the interviewer what reservations they have about hiring you. Ask them about the company goals. Another good workshop focused on why networking is so important, especially to college students."
The college junior said the most inspirational speaker was Chris Koch, who was born with no arms and legs. "His message was the core of the human spirit comes from new experiences. We keep forgetting to test ourselves. We need to be uncomfortable to be successful."
Schubert urges Farm Bureau members to attend this conference if they get the opportunity. "You not only benefit from the workshops, but the networking with others is invaluable."
Want more news on this topic? Farm Bureau members may subscribe for a free email news service, featuring the farm and rural topics that interest them most!