Boots on the Hill: Livestock Loss Board targets preventative funding, multiplier reimbursement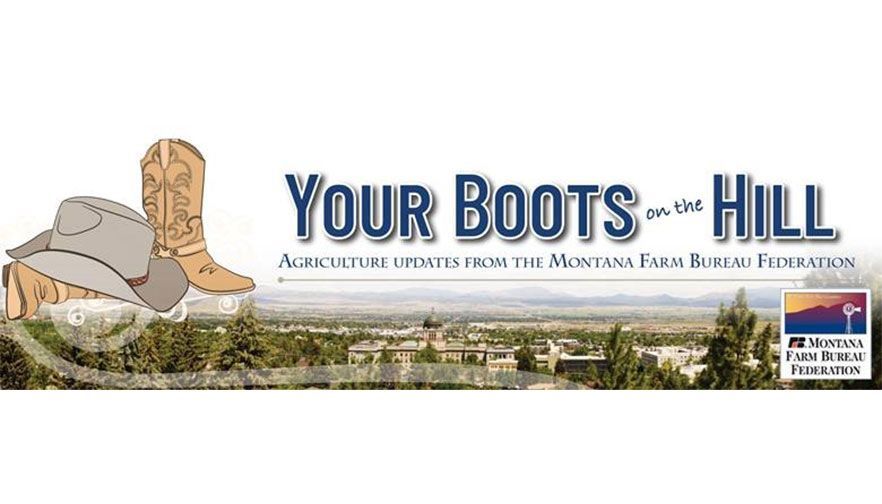 The 2021 Montana Legislative Session is picking up momentum. In addition to representing our state's farmers and ranchers in committee hearings, we've had several important meetings with agency leaders this week. 
Montana's new Department of Agriculture Director, Mike Foster and his team welcomed us to discuss the department's goals and budgetary needs in the year ahead. We were also able to meet with the new Department of Natural Resources Director, Amanda Kaster. Foster and Kaster were recently appointed by Governor Greg Gianforte, and we're looking forward to building relationships with these two new state leaders to serve Montana's farmers and ranchers together.  
Several important bills were in committee hearings this week, including two put forward on behalf of the Livestock Loss Board that will be of particular interest to livestock producers.
Here's a rundown of just a few of the bills we represented Farm Bureau members on this week:
Senate Bill 58: Provide fund transfer for livestock losses.
 Sponsored by Sen. Mike Cuffe (R), SD1, passed out of Senate Agriculture, Livestock and Irrigation Committee. Montana Farm Bureau member policy supports. This bill adds $100,000 from the state's General Fund to the Livestock Loss Board's prevention account to avert predation by grizzly bears, wolves and mountain lions. The preventative measures covered by this proposed funding includes non-lethal methods like range riders, guard dogs, electric fencing and more. This proposal received support from agriculture and wildlife groups, plus solid bi-partisan support, which bodes well for its success. The challenge for this bill will be the tight budget the state faces this year. If it doesn't make it through the system this year, it won't be for lack of merit.  
Senate Bill 27: Allow multiplier reimbursement for loss of livestock.
 Sponsored by Sen. Bruce Gillespie (R), SD 9, passed out of Senate Agriculture, Livestock and Irrigation Committee. Montana Farm Bureau member policy supports. SB 27 would create statute to allow the Livestock Loss Board to use a multiplier in designated regions for ranchers who have sustained livestock losses due to grizzly bears, wolves or mountain lions. Today, livestock producers are required to provide confirmed proof of predation in order to file for Livestock Loss Board reimbursement. Unfortunately, there are cases where the predator(s) leave no remains with which to confirm the livestock death. The multiplier would allow the Livestock Loss Board to use scientific data to determine regions in the state where producers are more likely to suffer losses due to the number of predators present and compensate them for losses accordingly. The multiplier would also be a tool to help compensate livestock producers for losses other than livestock death, like reduced breed up rates or weight loss due to predator pressure and stress. At this point, there is no additional funding attached to this bill, but it would be a step in the right direction in giving the Livestock Loss Board more tools to help livestock producers suffering losses.  
House Bill 121: Require elected official approval of local health board and officer actions. 
Sponsored by Rep. David Bedey (R), HD 86, currently in House Local Government Committee. Montana Farm Bureau member policy supports.
 This bill changes the authority of local health boards, requiring the local health board to propose their plans to their local governing body – county commissioners or city council, for example – to be put into effect. Montana Farm Bureau members passed specific policy on this issue at their annual policy session this year, citing concern for small businesses in rural communities shut down without public input through their locally elected governing bodies.  
Senate Bill 63: Establish wind and solar development ground lease for state trust lands.
 Sponsored by Sen. Duane Ankney (R), SD 20, currently in Senate Natural Resources Committee. Montana Farm Bureau member policy supports. The main premise of this bill is to remove wind, solar and geothermal energy lessees from a commercial classification on leases for state trust lands. In the bill, there is particular language which clarifies and protects agricultural lease holders' compensation for improvements they have made to the land in the case that a wind, solar or geothermal lease hinders the agricultural lease holder's ability to utilize his or her grazing lease. This ensures lessees who add improvements to state land are properly reimbursed for self-funded improvements in the same way they would be if the grazing or agricultural lease changed hands. 
Learn more at
www.mfbf.org
 or follow our Live with Your Lobbyist broadcast each Friday at noon on our 
Montana Farm Bureau Facebook Page. 
Nicole Rolf is the Director of National Affairs and a rancher from Miles City, Montana.  Nicole works closely with our Congressional delegation on national issues affecting Montana agriculture. Additionally, this is her seventh Montana Legislative Session, lobbying in Helena on behalf of MFBF members. She also works as the Eastern Montana Regional Manager. Nicole can be contacted at 
nicoler@mfbf.org.
Rachel Cone is the Director of State Affairs for Montana Farm Bureau Federation. This is Rachel's first session lobbying on behalf of Montana Farm Bureau. Rachel is involved throughout the interim session to track how bills will come to the session. She also coordinates the MFBF Water Committee, the Resource Management, Environment and Technology Committee and the Livestock Committee in addition to being the Treasurer for the Farm Bureau PAC. Rachel can be contacted at 
rachelc@mfbf.org.
The Montana Farm Bureau Federation is a non-partisan, non-profit, grassroots organization that represents more than 20,000 member families in Montana.
Want more news on this topic? Farm Bureau members may subscribe for a free email news service, featuring the farm and rural topics that interest them most!