Book Review - Full of Beans - Henry Ford Grows a Car By Peggy Miller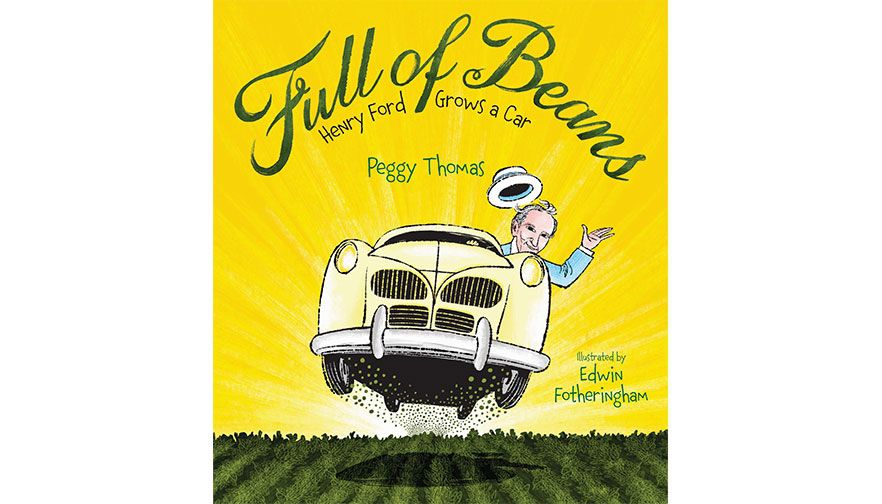 Henry Ford made cars. Millions of cars. But this story isn't about cars. Well...maybe just one. It's about one car and a lot of beans. "Full of Beans" inspires readers of all ages to think innovatively- even to build a car completely made of soybeans.
The book entitled, "
Full of Beans-Henry Ford Grows a Car
", written by Peggy Miller was awarded the 2020 Book of the Year by the American Farm Bureau Foundation for Agriculture during the American Farm Bureau Federation Annual Convention in January in Austin, TX.  
Although most of us know Henry Ford is famous for making Ford cars, how many of us realized that he was a farmer at heart or that he was committed to lightening the labor of farmers?   
The author provides a chronological sequence of events, which led to Henry Ford working with soybeans. First, using soybeans as a paint for the cars, then using soy beans for small plastic parts, and finally building large plastic panels to build a car. He even had his tailor make him a suit made from spun soy protein thread woven into fabric.  
The back of the of book shares a recipe for Model T crackers and how to make your own soybean plastic, as well as additional details about Henry Ford's life.   
It is a delightful book that provides the reader with interesting and engaging information. The illustrations by Edwin Fotheringham complement the authors' words and helps tell the story with colorful artwork. This book is a fun way to learn about the science of soybeans and the history of Henry Ford and is written for an audience of all ages.  
Full of Beans
offers an educator's guide to go with the book. The guide is formulated for grades 3-5 and students will learn about the many uses of soybeans, plant growth, where soybeans are grown and more.
To order Full of Beans
visit agfoundation.org
. Books retail for $18.99; discounts available on multiple book orders.
Want more news on this topic? Farm Bureau members may subscribe for a free email news service, featuring the farm and rural topics that interest them most!